Road 96: Mile 0 announced for Switch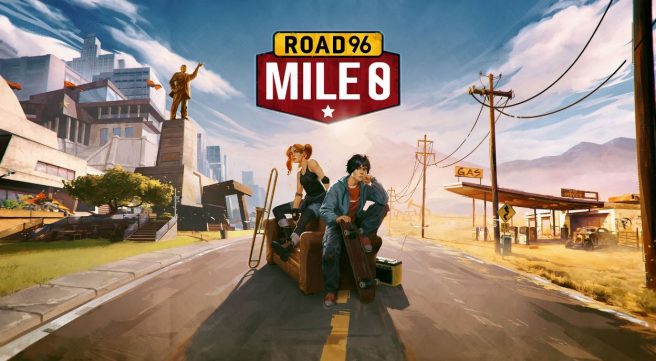 Publisher Ravenscourt and developer DigixArt today announced Road 96: Mile 0, a prequel to the acclaimed Road 96 that follows the original's narrative adventure roots while tying in heartfelt musical scenes. A release is planned for April 4, 2023 on Switch.
Road 96: Mile 0 is a narrative adventure game combining powerful storytelling with emotional music. For more information, check out the following overview:
Road 96: Mile 0 is set in White Sands, Petria´s only luxurious community, and takes place just before the life-shaping road trips of Road 96. Players will alternate between the roles of Zoe and Kaito, two teenagers with opposite backgrounds and beliefs.

Fans of Road 96 will remember Zoe, one of the main characters of the original game. She comes from the rich side of White Sands and her father works for President Tyrak´s government as the Minister of Oil.

Kaito – a character from developer DigixArt's first game, Lost in Harmony – on the other hand, was born in rough, impoverished Colton City. After moving with his family to get away from Colton City's pollution and find new jobs, Kaito finds himself in White Sands as well. It's been two years since this move and they are now close neighbors to the Tryak abode.

Intrigued by his dark demeanor, Zoe gets closer to Kaito and the two develop a strong friendship. This budding friendship with Kaito eventually exposes Zoe to disturbing truths about her country and even her own father. Through this new-found relationship, players will discover what made Zoe flee her home and the truth behind the 1986 Border Attack that sets off the events of Road 96.

Varying the narrative-driven gameplay of Road 96: Mile 0 will be sections that let us explore the thought processes of both Zoe and Kaito through psychedelic musical rides. Skating through these rhythm-based segments, players will make impactful narrative and emotional decisions that shape the journey of the game's two protagonists.
DigiArt CEO Yoan Fanise said of today's announcement: "In Road 96: Mile 0 we wanted to show where Zoe is coming from and why she left her comfortable life. But we didn't create Mile 0 in the conventional way. We went the crazy route, using metaphorical music sequences where you ride along on the beliefs and doubts of Zoe and Kaito. The funny part is that YOU choose how you want them to evolve."
The first trailer can be found below. It features the brand-new song "Land Locked Heart" from American synthwave band The Midnight, which is designed to reinforce the emotional experience for players.
Leave a Reply