Road-movie inspired racing game Heading Out on the way to Switch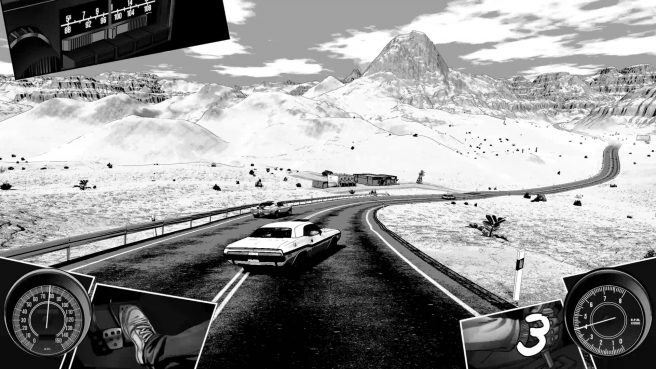 Serious Sim has announced Heading Out, a road-movie inspired racing game. It's currently on track for a 2022 launch.
Here's an overview of the game:
Heading Out is a road-movie inspired racing game mixed with an immersive narration, character creator and resource management.

We aim to recreate the spirit of cult American road-movies from the past. Such as Vanishing Point, Two-Lane Blacktop and Thelma & Louise.

Drive through the American West
Welcome to the mythical American West. You're a vigilante driving across the country in a muscle car. How fast can you go coast to coast? Who or what are you running from? Are you looking for an adventure? Or do you want to get lost on the highways carved in vast American plains?

Beautiful cars, hi-octane races and the joy of the drive
Hop into a classic muscle car, tune in to a great Americana soundtrack and go on a drive through the American West. Run from the police, chase other drivers, maneuver in traffic, break through a sandstorm, contemplate views during a peaceful night ride through the desert… And most of all: enjoy the ride!

Create your own hero & story
You're the Driver. Using a deep but easy-to-manage character creator, the player will answer questions about their fears, dreams and ambitions. What's your motivation? Why are you on the run? Who's chasing you? Choices made in the character creator determine what the player hears on the radio. Because you're making headlines and everyone is talking about you!

Meaningful choices and unique adventure
Choose your path across America. Keep an eye on your fuel meter, car condition and wanted level. Think strategically. Study the map. Meet mysterious travelers, make interesting choices and discover fascinating sites.
Will you help a stranger? Will you leave your past in the dust? Will you take up the challenge to a duel on the blacktop? Build a legend that is uniquely yours.

Rouge-like structure, infinite replayability potential
Every time you click New Story, a new adventure is created. You can become someone completely different, encounter new events and make different, meaningful choices. After completing a run, you can immortalize your adventure and share it with other players!
Watch a trailer for Heading Out below.
Heading Out is expected digitally on Switch when it launches next year. You can find the official site here.
Source: Serious Sim PR
Leave a Reply