Screencheat: Unplugged announced for Switch, out next week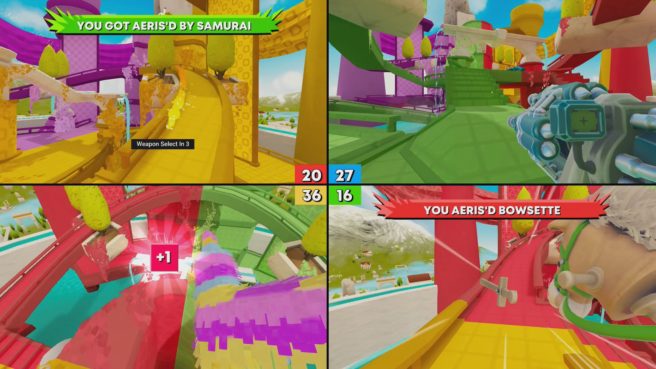 Screencheat: Unplugged is coming to Switch, Samurai Punk has announced. The chaotic party split-screen first-person shooter has been "fully remastered and revamped" for Nintendo's console including "a graphical overhaul with more vibrant and clear visuals designed with the portable screen in mind, new and remixed maps, remastered weapons, an updated UI, full support for single Joy-Con, dual Joy-Con, and Nintendo Switch Pro Controller inputs, and an entirely new soundtrack introducing a fresh and mischievous medley of energetic tracks to enjoy."
Here's some additional information about the game, along with a trailer:
Samurai Punk's Screencheat: Unplugged features a myriad of improvements over the original release, as well as alterations tailored just for the Nintendo Switch™, including: a graphical overhaul with more vibrant and clear visuals designed with the portable screen in mind, new and remixed maps, remastered weapons, an updated UI, full support for single Joy-Con™, dual Joy-Con™, and Nintendo Switch Pro Controller inputs, and an entirely new soundtrack introducing a fresh and mischievous medley of energetic tracks to enjoy.

Wield a wacky arsenal of one-hit kill weapons ranging from blunderbusses and hobby horses to candelabras and explosive teddy bears. Since all characters are invisible, players must watch their opponents' screens to know their locations; screen-cheating is not only encouraged, it's necessary. The 11 levels are divided into color-coded areas filled with memorable landmarks, allowing positions to be pinpointed with ease.

Screencheat: Unplugged touts a range of recognizable game modes, like My First Deathmatch and Hillcampers, as well as decidedly less-familiar ones, such as Murder Mystery and the confetti-filled piñata-based experience Capture the Fun, which use the game's distinctive premise in fascinating ways. This variety is reflective of the full experience, which is brimming with customization options allowing players to tune the experience to their personal tastes.
Screencheat: Unplugged launches November 29 on the eShop for $12.99 / €11.99 / £10.79 / A$17.99. It can be pre-ordered now with a 25% discount.
The game will feature English, French, Russian, Spanish, Brazilian Portuguese, Dutch, and Korean language options. Simplified Chinese and Japanese will be added in a future update.
Source: Samurai Punk PR
Leave a Reply