SGC – Short Games Collection #1 heading to Switch in October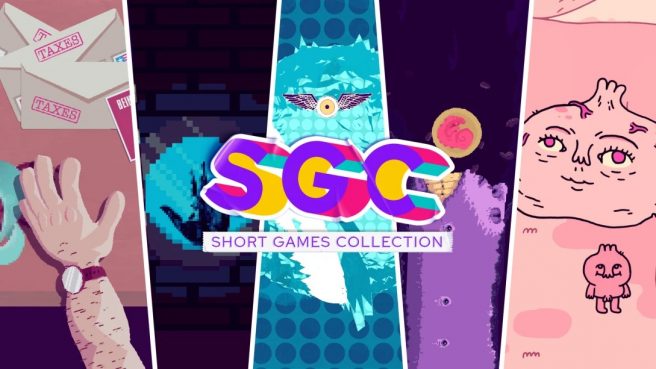 Nerd Monkeys today announced SGC – Short Games Collection #1, a package of short gaming experiences. It will release on October 1.
SGC – Short Games Collection #1 will include The Good Time Garden, Swallow the Sea, A Game Literally About Doing Your Taxes, Ghostein, and Uranus. The full set is being made available on Switch for the first time.
Here's some additional information about the series, along with a trailer:
The Short Games Collection is a series of collaborative work between game developers from all around the world and Nerd Monkeys, to publish games that respect the player's time and is focused on keeping the scope of game development sustainable, allowing creativity to shine.

Heavily inspired in all other short format artistic mediums such as short movies, the intent with this and future short games is to say a lot with less, to have the opportunity to be irreverent, to credit and highlight indie game developers, and to provide the player with a wide variety of gameplay experiences in a pleasing and accessible format.

We thought, "remember demo discs? Those were nice…" and we jumped to our desks at home and started working hard at it. How could we improve upon that experience, elevate it and make it in a way that served and represented the games and their developers well? We wanted even the menu to "feel", so we invited an artist to express herself however she liked, no limits other than "menu-like features" were imposed, and the result ended up being something special.

Our mission is to tell the world how amazing short games can be, sometimes this unloved sub-category of games can provide you with amazing experiences that work really well in a short format, delicious bite-sized gameplay experiences you can play in one go, from start to finish, if you would like to.

But, what exactly is a short game?

A short game for us is a video game you can fully play from start to finish in one sitting during that Sunday afternoon you have free. It can be a couple of minutes or a couple of hours. We agree this is an arbitrary and vague choice on our part, but we need a starting point to develop this idea, so we see this definition as an ever-evolving and fluid concept. Let's discover what short games are, together!

Nerd Monkeys, I never heard of them, who are they?

What we are unveiling today is not just the first Short Games Collection or the fact that we are already developing a second one, it is also an important milestone we worked very hard to reach. After eight years as an indie studio, today we now also call ourselves an indie publisher. We now proudly have Mafalda Duarte at the helm of Nerd Monkeys Development and the old-timer Diogo Vasconcelos guiding Nerd Monkeys Publishing, this is a brand new Nerd Monkeys figuring out who we are as we go and we just wanted to say hi, it's very nice to meet you.
Short Games Collection #1 can be pre-ordered now on the Switch eShop for $15.99. Typically, the whole thing goes for $19.99, so you'll get a slight discount by reserving.
Source: Nerd Monkeys PR
Leave a Reply