Shadows of the Afterland, point-and-click adventure game, coming to Switch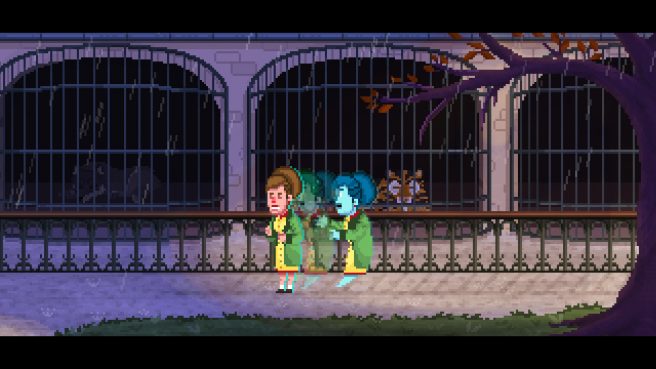 Aruma Studios has announced Shadows of the Afterland, a new point-and-click adventure game for Switch. It will be available in 2024.
Shadows of the Afterland is said to be "a supernatural comedy adventure that takes players on an enchanting journey through the realms of the living and the afterlife." The scene is set in 1960 Madrid and follows a soul who arrives with the memories of Carolina, a pioneer of the Madrid police force who actually hasn't been born yet.
Further details can be found in the following overview:
Madrid, 1960. The old city zoo is rocked by a mysterious death, catapulting a soul to the threshold between the world of the living and the afterlife. But when the transition goes awry, the soul arrives with the memories of Carolina, one of the pioneers in Madrid's police force, who has yet to be born.

Step into Carolina's shoes and plunge into a riveting adventure to unravel the enigma shrouding these ominous events. Explore the wacky realm of the afterlife, teeming with unique characters and with its own set of rules.

Your relentless pursuit of truth will lead you to cross paths with César, an elusive ex-agent of the afterlife. Persuade him to join you in this transformative odyssey to confront the sinister forces that lurk in the world of the living. As you earn César's trust, prepare to tackle intricate puzzles, harness the power of magic, navigate between worlds, and even possess the living.

Key Features

Explore a supernatural murder mystery, blending themes of identity, courage, and destiny with afterlife, reincarnation, and the connection between past and future lives.
Take command of various playable characters using unique possession mechanics.
Explore the intricate stories of eccentric afterlife spirits through meaningful conversations.
Tackle clever and logically sound puzzles intricately intertwined with the storyline. Wield magic, navigate between both realms, and employ possession mechanics to solve them.
Immerse yourself in meticulously crafted pixel art scenes and animations.
Experience an original soundtrack that enhances the game's haunting atmosphere.
Watch a trailer for the game below.
Announcement Trailer
Leave a Reply