Shoot 'em up Grood due out on Switch this month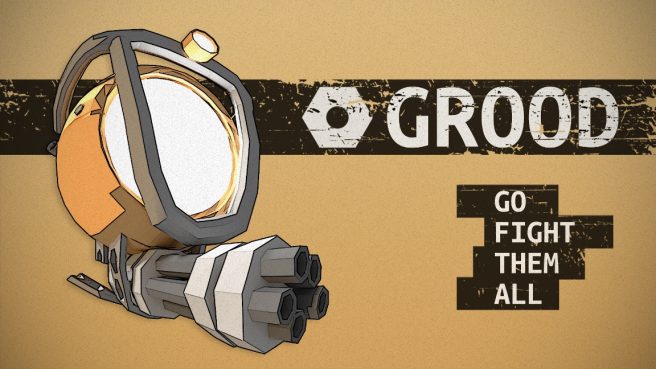 Claudio Catalano, CC_ARTS, and Drageus Games have announced that the shoot 'em up Grood will release on Switch this month. It'll be available digitally starting October 23.
Here's an overview of Grood, along with a trailer:
Unleash fire upon machine invaders in this fast-paced, challenging, Heavy Metal-fueled shoot'em up!
Your mission: annihilate an army of robotic enemies and bosses, all of them furiously blasting bullets, missiles and lasers your way.

Your ship: a powerful vehicle you created, called GROOD. It's now time to pilot this killing machine!

Travel through woods, swamps, cities, frozen lands, deserts, and more to seek and destroy strange mechanical foes. There's no time to rest and the sun will set before the battle is over: be ready to fight nights and days and under different weather conditions: rain, snow, strong winds…It will get hardcore and the Heavy Metal soundtrack will keep you alert and adrenaline-rushed.

GROOD blends a classic shoot'em up arcade gameplay with modern graphics. The vibrant effects of explosions, smoke, fire and projectiles will fully immerse you in a hellish battle. If you prefer to keep it old-school though, just switch on the "90's love" option to get pixelated retro visuals.

You won't only need skill to succeed but also some tactical thinking. Be smart with both your aim and positioning to get rid of the most dangerous opponents first and to avoid being surrounded.
Compete with your friends and other warriors around the world for the best ranking in global leaderboards!

Features:
– Frenetic flying and shooting action
– Classic arcade gameplay with modern graphics…
– …or retro visuals with a special "90's love" option
– Global ranking leaderboards
– 3 difficulty modes: HARD, HARD and HARD
– Dynamic weather for more diversity and replayability
– Day/night cycle. No rest, fight from dawn to dusk and through the night
– Multiple final bosses and weapons
– Hardcore Metal Soundtrack
Pricing for Grood is set at $4.99 on the Switch eShop.
Source: Drageus Games PR
Leave a Reply