Skulls of the Shogun: Bone-A-Fide Edition coming to Switch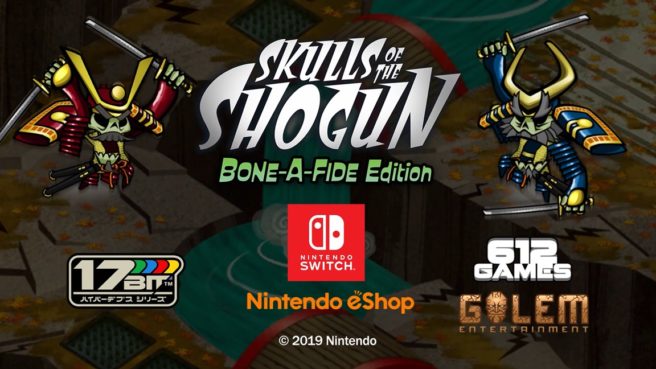 Publishers 612 Games and Golem Entertainment today announced that 17-Bit's Samurai-inspired turn-based strategy game, Skulls of the Shogun: Bone-A-Fide Edition, is coming to Switch. The game will be launching digitally this spring.
Here's an overview of the game, along with a trailer:
Set in Feudal Japan, Skulls of the Shogun: Bone-A-Fide Edition sees players take on the role of the recently deceased General Akamoto, Japan's mightiest Samurai General who is stabbed in the back by an unknown assailant on the eve of his greatest battle. Players must combat the Shogun's Generals through the four regions of the afterlife, as well as meeting the gods of each region.

It's up to players to control general Akamoto and his army of soldiers. At each turn, five orders can be carried out. The game offers fans plenty of tactical approaches to choose from, like killing units, bolstering minions by eating skulls and haunting rice fields and buildings. Not to forget the all important consideration how to best use and deploy their general, who must be protected at all costs.

See the game's key features below:

A fast-paced, arcade-inspired blend of arcade action and turn-based strategy!
Rub shoulders with the colorful denizens of the Afterlife and power up your army to deadly demons!
Rampage through 24 levels in an epic single-player campaign!
Confound opponents with the all-new Tanuki Monk unit!
Gain experience and fuse emblems with an all-new player progression system!
Battle up to 4 players at once on spectacular multiplayer maps, both locally and online!
Power your way through an all-new episode, which features persistent troops and the mischievous new Tanuki Monk!
Get inside our heads with all-new Developer Commentary!
Source: 612 Games and Golem Entertainment PR
Leave a Reply