Space Warlord Organ Trading Simulator gets surprise release on Switch, physical version to follow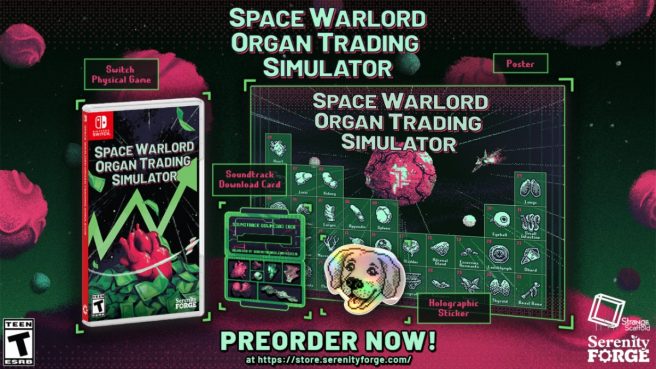 After an initial debut on PC and Xbox last year, Space Warlord Organ Trading Simulator has just made the jump to Switch. Serenity Forge has even confirmed plans for a physical version.
Space Warlord Organ Trading Simulator is described as "a story-centric market simulator about making a profit from body parts, and plying your fleshy wares to a strange and evolving universe of clients." Players will "monitor market trends, fulfill client requests, unknowingly create a sentient deity of meat that will one day absorb all life."
For the Switch edition, all previously released updates so far are included such as the Harvester update which added the first round of new quests as well as a second expansion featuring new storylines and game endings with additional writing by the co-writer of Infernax. There are plans for even more post-launch updates, including crossover content from the universes of games such as Inscryption, Bugsnax, and Among Us.
Here's a trailer for the game:
Space Warlord Organ Trading will cost $34.99 at retail. Each physical copy includes the cartridge, an illustrated inner cover sheet, a holographic sticker, a soundtrack download, and a folded poster with a unique illustration. It will be available this fall.
Source: Strange Scaffold PR
Leave a Reply