Super Rare Shorts label announced, new physical-only Switch games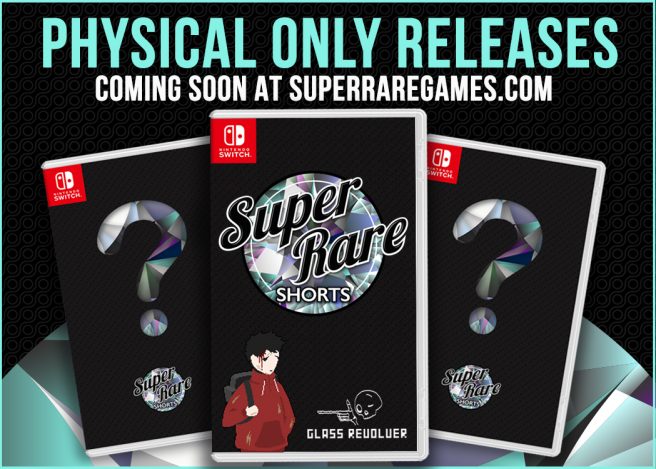 Super Rare Games is taking its plans for physical releases to the next level. The company has announced a new Super Rare Shorts label, which is dedicated entirely to Switch games available exclusively as physical editions.
Here's some additional information:
Super Rare Shorts titles will be completely original, totally exclusive games for the new label, with the first yet-to-be-announced title from developer Glass Revolver (creator of ITTA, House of God) available via a month-long open preorder window later this year. 5000 copies will be printed initially so fans won't have to wait long to receive them, with any additional orders shipped roughly a month after the preorder window permanently closes.

Shorts can be anything from entirely from-the-ground-up original titles by up-and-coming or veteran indie developers, finished versions of promising prototypes or smaller-scope games, vastly different and more definitive versions of promising titles that struggled to get the spotlight, or even expanded jam games from larger internal studios. Multiple Shorts games are currently in development.

Having worked with over 50 developers across the last 3.5 years, Super Rare aims to boost indie developers beyond what the market currently provides for smaller-scale games that struggle to gain mass-market appeal, falling in line with our aim to become 'indie's best friend'. With massive visibility issues for digital indie games, and smaller-scope games generally being passed up by indie publishers who are looking for larger-scope, high-profit titles, Super Rare Shorts aims to showcase awesome titles that would otherwise have never seen the light of day or received the audience it deserved.

In funding these projects, Super Rare hopes not only that they'll reach a passionate audience of indie game fans, but that more money can be generated for indie developers to fund their next projects – sometimes achieving more visibility, sales, and a higher level of profit than their previous releases, as with Glass Revolver's fantastic but underrated game ITTA.
If a Switch game is included in the Super Rare Shorts line, you'll only be able to play it if you pick up the game physically. It won't launch on any other platform and there won't be a digital version on the eShop.
Source: Super Rare Games PR
Leave a Reply