Sydney Hunter and the Curse of the Mayan getting a physical release on Switch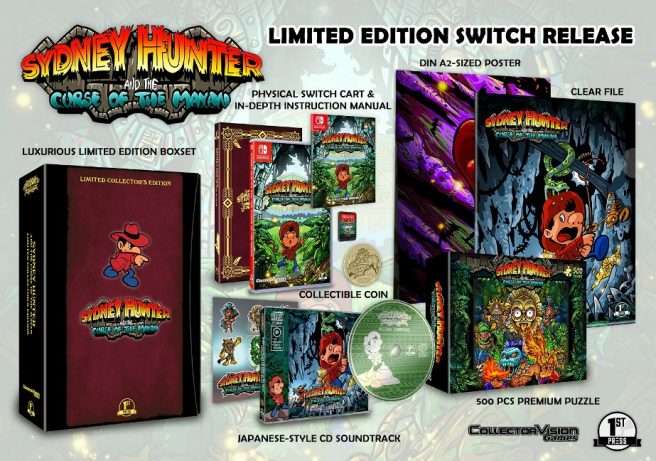 First Press Games is readying a physical version of Sydney Hunter and the Curse of the Mayan, the company has revealed. Fans will be able to choose between a standard edition nad collector's edition.
With the collector's edition, buyers will receive a premium box with item trays, a numbered gold-colored coin, two clearfiles, double-sided A2 poster, two magazine-style ad prints, Japanese cover, and manual. Only 500 units will be made.
Here's a bit of information about the game:
Sydney Hunter and the Curse of the Mayan is a love-letter to 8-bit action-platformer games. A true Retro-feast with challenging gameplay & a dash of adventure-elements, featuring a huge number of Maya-inspired levels & bosses!

You play as Sydney Hunter, adventurer supreme, who by sheer luck manages to get trapped inside a massive Maya pyramid. He soon discovers that the "Feathered Serpent" Kukulkan has broken up the sacred Haab calendar into 7 individual pieces and hid them inside the very same pyramid!

Widespread chaos and a time freeze will certainly follow if the Haab calendar isn't put back together. With the support of the local Maya population, Sydney Hunter must find all pieces, defeat Kukulkan, to return peace and balance.
You'll be able to pre-order the physical versions of Sydney Hunter and the Curse of the Mayan starting on April 23, 2022 at 8 AM PT / 11 AM ET / 4 PM in the UK / 5 PM in Europe through First Press Games here. Those that do so by May 29 will be provided with an additional bronze-colored collector's coin.
Leave a Reply