The Jackbox Party Pack 3 also hitting the North American Switch eShop next week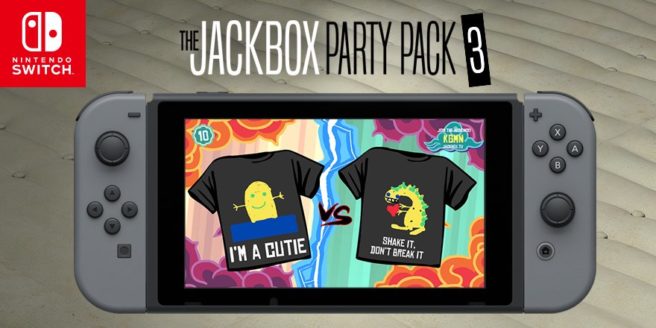 The Jackbox Party Pack 3 was previously confirmed to release on the European Switch eShop on April 13. We can now say the same about North America as well. Nintendo's website updated with a listing for the game, containing the April 13 date.
The page comes with this overview:
"The threequel to the party game phenomenon features FIVE new sense-shattering games!

The say-anything sequel Quiplash 2 (3-8 players). Play all new questions or make your own!
The deadly quiz show Trivia Murder Party (1-8 players). Match wits with a trivia-obsessed killer.
The surprising survey game Guesspionage (2-8 players). Guess the results to silly survey questions.
The t-shirt slugfest Tee K.O. (3-8 players). Battle your custom t-shirts to the death!
The sneaky trickster game Fakin' It (3-6 players). One of your friends has something to hide.
Play using your phones, tablets, or computers. No extra controllers needed!

All games support up to 10,000 audience members playing along!

Plus tons of NEW features just for streamers! It's a digital box full of actual fun!"
The Jackbox Party Pack 3 will cost $24.99 on Switch.
Leave a Reply