Theme park based adventure game The Quest for Excalibur – Puy du Fou announced for Switch
Posted on May 25, 2022 by Dawn in News, Switch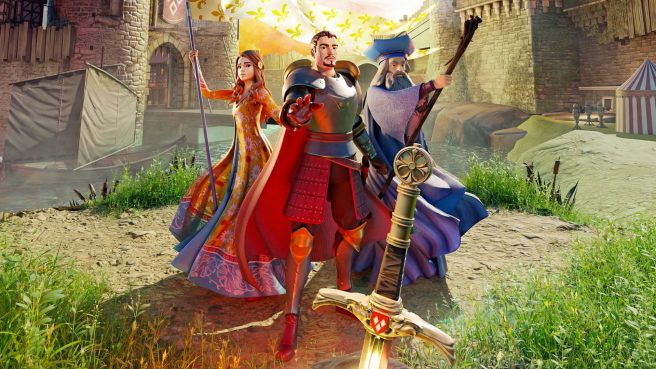 Developer Microids have announced that The Quest for Excalibur – Puy du Fou, a theme park-based adventure game, will be coming to Switch on July 12. Based on the Puy du Fou theme park, the game will see you exploring the park and taking on various challenges to find and assemble the fifteen pieces of the broken Excalibur.
Here's an overview of the game, courtesy of Microids:
The story of The Quest for Excalibur – Puy du Fou

Only you can find Excalibur!

Everybody is familiar with the legend of Kind Arthur and his rival Lancelot.

Devoured by jealousy, Lancelot challenged the king to a duel. During the fight, the king's sword Excalibur breaks in pieces, leaving only the guard in a pristine state.

Following a pact with the evil Morgan, Arthur decides to throw the remains of the sword in murky waters. Finding himself trapped, the king ends up prisoner of the Avalon Kingdom.

Merlin the wizard is then tasked by his king to track down the king's heir and ask him to find the 15 parts of the broken legendary sword to bring the king back from the land of the dead.

About the game

Based on the world renown theme park, joy bringer for 45 years
Take part of this new chapter of King Arthur's legend and save him from a terrible destiny by recovering the 15 pieces of the broken sword
Travel through time and space and face all kind of danger:
Challenge the terrible viking fighters
Step into the Roman arena to fight for your life
Become a knight and take part in merciless jousts
Explore the park as if you were there! Gather the clues to progress on your quest or explore at will to take on all the secondary challenges based on famous historic characters like La Fontaine, De La Pérouse or even Clovis!
Customize your avatar to look like you for a very personalized experience!
More than 15 challenges and a lot of items to discover in an adventure deeply rooted in Antiquity and the Middle Ages.
The Quest for Excalibur – Puy du Fou will release on July 12.
Source: Microids PR
Leave a Reply