Time management game Shakes on a Plane announced for Switch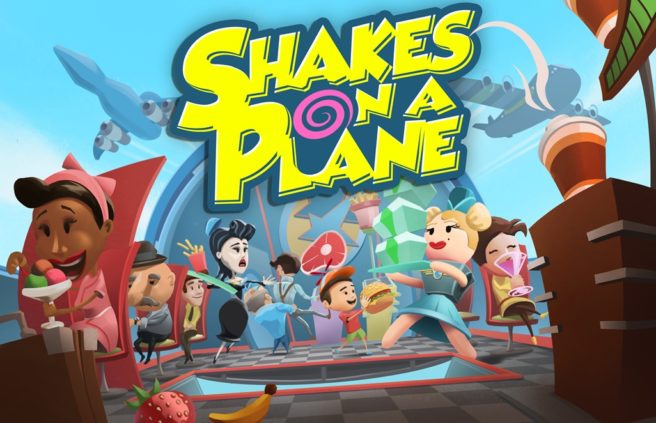 Publisher Assemble Entertainment and developer Huu Games have announced Shakes on a Plane, a "time management game that stirs up every preconceived notion about what life is like for an airline cabin crew." A release is planned for November on Switch.
Here's an overview of Shakes on a Plane, along with a trailer:
Life as part of an airline cabin crew can be so tiresome…so repetitive…that is, unless it's a crew of strangers who have been mysteriously abducted from all over the globe and forced to work together 30,000 feet above the ground! Even though it might look like total chaos, the daily grind of a cabin crew is really a fine-tuned and highly organized operation. Before the passengers arrive and screw everything up, that is. What could go wrong? Well, let's start with para-dropping troublesome passengers out of the plane while cleaning knee-high piles of vomit to get this wacky adventure soaring.

Inspired by acclaimed chaotic co-op titles such as Overcooked and Unrailed, Shakes on a Plane challenges players to work together with the odds stacked against them. While there are plenty of laughs to be had, Shakes on a Plane encourages coordination and teamwork with simple controls and easy-to-learn, difficult-to-master gameplay mechanics.

Additional Features Include:

Dangerously Difficult: No matter how unreasonable and ungrateful the passengers are, or how outlandish their demands may be, the cabin crew must make it work. Every attendant has a job to do, no matter how vile.

Quirky Co-Workers: Each attendant in the crew has a different outlook on life, and in turn, a unique special ability. Take Mr. Yrman for example — he was fed up with life as a prison guard, so becoming a flight attendant was the natural next step. He's also a passionate knitter.

Fine Dining: As everyone knows, airline passengers will only accept the best of the best when it comes to in-flight cuisine. While you may not be boasting a Michelin Star, the crew is counting you to work as a team to produce the very best shakes, burgers, coffee, and more.
Shakes on a Plane will initially be available in English with optional subtitles, with more languages to come.
Source: Assemble Entertainment PR
Leave a Reply