Top-down roguelite AK-xolotl coming to Switch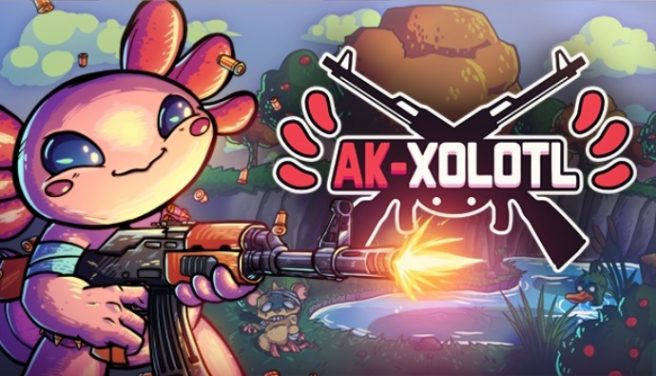 The top-down roguelite AK-xolotl will be seeing a release on Switch, developer 2Awesome Studio has announced. An exact date hasn't been set at this time.
We have more information in the official overview below:
AK-xolotl is a top-down roguelite, featuring the cutest amphibian. You're an axolotl with an AK (duh!) that goes on a rampage, shooting down their next meal!

Progress through the ecosystem and show who the real apex predator is! Advance through several maps that mix the best of both worlds: procedurally generated biomes, for a randomized experience, and carefully handcrafted room layouts, to achieve the perfect pond atmosphere.

Key Features

Hunt and obliterate your prey with tons of different weapons: melee, close-range, long-range, etc., pick your own playstyle!

Tons of different types of enemies: axolotl's meal will be buffet style!

Become not only the real apex predator, but also a Michelin chef: cook delicious recipes with all the ingredients you gather throughout your hunting adventures and become stronger.

Expandable and customizable hub: build and customize your own pond & craft new items to decorate it! Your axolotl deserves the best place to live in.

Multiple power-ups to beef up your Axolotl: yes, you have guns, but why not some extra powers as well, that not only make you mightier but also add variety to the gameplay?

Different biomes with multiple variations: experience carnage on the pond with different settings and during different times of the day.

Cute baby axolotls that become playable: pet and care for baby axolotls. Feed them, nurture them and watch them grow! Finally, bring them on your hunting adventures.

Fully supported online leaderboards: because highscores only really matter if you can brag about it!

3 extra game modes for some bite-sized action: need a break from the main hunting? Unwind in quick and fun shooting. Test your reflexes in Pond King, Horde and Chrono, available in both single player and up to 4 players co-op!
And here's a trailer for AK-xolotl:
AK-xolotl will be sold digitally through the Switch eShop. Once we have a release date, we'll let you know.
Source: 2Awesome Studio PR
Leave a Reply