Ubisoft shares internal Gods & Monsters developer interview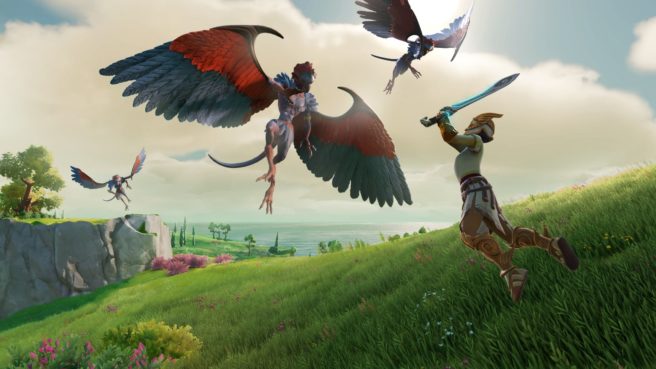 Leading up to the release of Gods & Monsters early next year on Switch, Ubisoft has begun sharing some developer insight on the game through internal interviews and blogs.
Specifically, their latest interview — involving Creative Director Jonathan Dumont and Senior Producer Marc-Alexis Côté — focuses on building the players' journey as well as location and theme within the game. Check out the interview snippets below.
On revisiting Greece as the game's setting…
Jonathan Dumont: What was cool about diving into a setting like we did with Assassin's Creed Odyssey was that you start to know quite a bit about it. We really connected with the mythological aspects of ancient Greece. The gods, the monsters, the legends, the myths are all great, but building an Assassin's Creed game limits what you can tap into. During production, we started thinking, "what if we made something that's 100% mythology? We could make a dramatically different game than we did before." Gods & Monsters really is a brand new type of game for us that is a complete mythological adventure built on the four-year background we have of building a historical Greek setting.
On designing a game around mythology…
JD: Myths transcend history and become part of the fabric of Greece. Myths can be really colorful, they can be funny, or they can be dangerous, so it allows you to work in a different spectrum than something like a historical setting.
Marc-Alexis Côté: We're bringing the same rigorous historical approach that we had on Assassin's Creed to this mythological setting. We're really trying to understand those myths, to ensure that we can retell them in a way that is interesting and profound for our players.
On consulting a mythological expert for the game…
JD: It's funny that you say that, because Dr. Stéphanie-Anne Ruatta, the historian who helped us on Assassin's Creed Odyssey, actually specializes in mythology, so we couldn't have found a better person to help us with Gods & Monsters.
On the game's tone…
JD: It is in line with what we typically do. It is lighthearted. The narrator, Homer, is telling his grandchildren this story, but his grandkids are interrupting and asking questions along the way. Mythology has a good sense of humor, oftentimes, so there are certain instances where we like to poke fun at things. You can expect a different approach for how the story is told, but a similar tone to what we've done in the past.
On powers and abilities…
JD: We designed Odyssey with special abilities, so we took that and put it on steroids for Gods & Monsters. When you're fighting and you trigger your abilities, you're going to wreck the enemies you're facing. You can expect fast-paced combat that takes place on the ground and the air. For example, if you're fighting a cyclops, you may have to double jump to reach his head and hit him in the eye to blind him, so then you can fight him on the ground. We also have aerial enemies like harpies.
In addition to the godly abilities you'll have, you'll also have magical items, like the Boots of Hermes, which allow you to double-jump and get to places you wouldn't be able to access before. There are plenty of items like that, but we're saving them for future surprises.
On the game's villain…
JD: I'm not going to talk too much about his motivations right now, because it's tied closely to the storyline, but if you read up on Greek myths, you'll find out he's one of Zeus' biggest foes. He is also supported by a huge cast of other monsters.
We decided to use monsters as opposition to the gods and the hero of this story because that's what you so often see in Greek myth. We'll be able to talk more about the details later this year.
On how the game is different than other open-world games…
MAC: What we see as the most differentiating factor is how we approach the narrative. It's a light and humorous story that we're going to tell, and we think it will make this feel unique. Players can also customize the appearance and stats of the protagonist, Fenyx, so we hope that players project themselves onto our hero.
The player is also going to be challenged through combat, platforming, and resource and stamina management. The combat is ability-based, but those abilities can also be used to traverse the world.
JD: The world is beautiful; the art style is this vibrant, painterly style, so it's a very bright and colorful game. We're going for a more inviting and approachable art style for this game.
On customization and progression…
JD: Fenyx is fully customizable as a character, but once you start the game, you'll be able to customize your armor and gear to your liking. We'll have much more to talk about on that later on.
On the game's perspective and art style…
JD: We thought it was cool (laughs). Seriously, we thought it felt different and looked great. We were super excited to do it. I personally love movies with a narrators; I think it's a great entry point into a subject that you aren't super familiar with. It's a great way to lead you into a new tale or lesson that you're learning through the myth. It gives a unique charm, too, because it's being told through this magical lyre, so Homer's grandkids are seeing the myth unfold before their eyes.
We wanted the experience to be approachable, not daunting, and you're fighting a lot of big monsters in this game. So, we thought it would be enticing to use a more painterly art style.
One what excites the devs most with Gods & Monsters…
JD: It's the pacing of the game. We send you into this open world and try to make sure that the journey is as interesting, challenging, and rewarding as the destination. It's really about losing yourself in this world that offers a variety of gameplay through combat, puzzles, and traversal. I also like that it is approachable and has a feeling of an uplifting adventure for everyone playing it. We're telling a cool story, teaching people about myths, and doing it in an uplifting way.
MAC: I think starting with a blank page is very exciting for us as a team. Bringing our open-world skills that we've been honing for the last 10 years working on Assassin's Creed, and having the chance to work on this blank page to create something new and fresh, is very exciting for me and this team. We're all very excited about creating this new game, this new IP, and we're giving it everything they can to make this the best possible game.
Leave a Reply