Upcoming Switch eShop games – Danger Mouse, Sword of the Guardian, A Case of Distrust, Party Crashers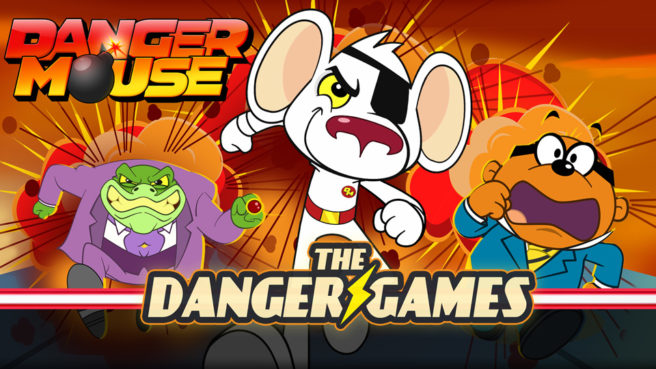 Nintendo's website is listing a few new upcoming titles for the Switch eShop. Danger Mouse: The Danger Games, Sword of the Guardian, A Case of Distrust, and Party Crashers will be rolled out over the next few weeks.
We have the following overviews (and trailers where available):
Danger Mouse: The Danger Games – September 13
Welcome to The Danger Games, where you'll dash, jump, fly, and shrinkatize your way to the finish!
In this insane race showdown of epic proportions, you'll play as the world's greatest secret agent, Danger Mouse, starring in Quark's latest reality TV show, The Danger Games. Speed through city streets, battle enemies, and dodge explosions as you struggle for first place! Will you make it to the finish line in one piece?!

Play as Danger Mouse, Jeopardy Mouse, Colonel K, Penfold, or a host of other lovable heroes and nefarious villains from the hit BBC show, Danger Mouse. Gain new character and item cards with each win that can be used to activate new attacks in races, or enhance and strengthen your characters.

The Danger Games on Nintendo Switch™ also supports up to 4 Joy-Con™ controllers on one device, so you can face off against your friends from the comfort of your living room (or anywhere else!).

FEATURES:

* Pick up and race anytime, anywhere, against anyone on Nintendo Switch™!
* An epic multiplayer race battle that pits you against other players in real time
* Supports up to 4 Joy-Con™ controllers at once
* Compete against your friends (or your enemies)
* Try out an endless combination of characters and equipment from the Danger Mouse TV series
* Trade cards with your friends to build your race deck
* Collect cards to upgrade your characters and equipment
* Win trophies to claim your spot on the leaderboards
* An addicting game that you won't want to put down!
Sword of the Guardian – September 18
Did you enjoy playing arcade games with your childhood friends in the past? Paying homage to the popular side-scrolling arcade games in 80s and 90s, the Sword of the Guardians is an amazing retro beat'em up game for you and your fellas to indulge in an incredible adventure.

Setting in the medieval times, the Swordsman, accompanied by the Monk and the Dwarf, is taking on an epic journey and fighting against the villains to protect their people. You can now be the heroes in the battles, against a variety of intriguing enemies as you move up to each level, including troops of armies, assassins, wizards, bombers, butchers, skeletons and spirits and so on. Prepare to be captivated by the spectacular 3D backgrounds and immersive background music and sound effects as you venture through the forests, villages, dungeons and castles.

The Sword of the Guardian offers exhilarating game play experience by featuring command-based combo attacks (such as "↓ → + attack" and "↓ ↑ + attack") customized for each character, immersive hit feeling and diverse actions such as throwing weapons and using magic.

Pick a character to fight! Unleash your power with the three distinctive characters of your choice. Whether it's the Swordsman who fights for love, the Monk for wisdom or the Dwarf for power, you are guaranteed to experience a breathtaking gameplay as you perform the signature and powerful combo attacks. Compete with your friends on the number of cohesive hits in a flamboyant playing style.

Features

– A co-op gameplay supporting three local players

– Multiple endings and storyline

– Retro arcade gameplay with exhilarating hit feeling

– Three characters with distinctive features and fighting styles at your disposal

– Command-based combo attacks and diverse actions such as throwing weapons and using magic to achieve endless fighting combinations

– A creative range of weapons and magic to enhance cooperation between players, including physical daggers and bombs, magic power over ice and fire, and healing and protection spells

– Spectacular 3D backgrounds, with variation on weather and lighting

About the developer

This game has been developed by a solo developer who has spent 4 years' time on game design, graphics, programming and visual effect on his own.
A Case of Distrust – September 20
A Case of Distrust is a narrative mystery from 1924 San Francisco. Play as private investigator Phyllis Cadence Malone in this historical 2D adventure game. Explore underground speakeasies, smoke-filled billiard halls, classic barber shops, and more. Catch suspects in lies by using evidence, statements, and your wits. Intrinsic challenges face our heroine, as she struggles against a pushback on emancipation, leading to many doubts, both internal and external. Uncover the truth in a mystery full of deception!
Party Crashers – October 4
Fast-paced battle-racing with a retro-future aesthetic for 1-8 players. With over 50 included game modes and almost endless customisation, Party Crashers is amazingly fun out-of-the-box, and then let's you create your own fun.
Crash your way through varied game modes inspired by decades of racing games

• manic vehicular carnage battles with customised vehicles

• top-down high-speed arcade racing

• precise skillful timetrials

• fast-paced split-screen golf kart racing with lots of rubber-banding

• crazy school bus battle royale

• procedurally-generated tracks with bananas raining from the sky

Create your own game modes from hundreds of settings with trillions of combinations… crazy powerups, teleporting track edges, ramps, bollards, icy roads, no brakes, explosive car collisions, coin chasing, backwards driving, air-time bonuses, slow-motion, attached trailers, 15-second rounds… the number of ways to play is practically endless!
Leave a Reply