Voodoo Detective, point-and-click adventure game with hand-drawn animation, hitting Switch this month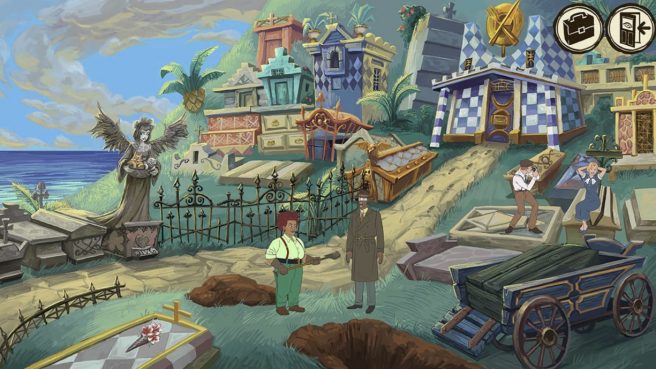 Voodoo Detective saw its initial debut this year, and Short Sleeve Studio has now announced that it will soon be available on Switch. Look for it on September 29, 2022.
Voodoo Detective is a 2D point-and-click adventure game with hand-drawn animation inspired by Monkey Island and King's Quest. It features a full cast of veteran voice talent plus a soundtrack composed by Peter McConnell.
Here's a full overview with more information:
If you're looking for adventure, you will find it in Voodoo Detective, the point-and-click sensation!

New Ginen: a small island town steeped in rich Voodoo culture, overrun by chain stores, infested with privileged tourists. Where local color and colonial corruption clash in a desperate battle for survival.

Against this fascinating backdrop we meet a mysterious woman with no past standing at the center of a drama so profound the threads of reality are threatening to unravel!

Join Voodoo Detective on his latest case, where danger hides behind every dirty secret and each thrilling moment may be his last. It's time to don your fedora and trench coat, detective, you've got a mystery to solve!

Key Features

– Monkey Island inspired point-and-click adventure!
– A rich story full of whimsy and intrigue!
– Hand-drawn backgrounds, animations, and user interface!
– High definition graphics!
– Prominent voice talent from games and films such as Mass Effect, Dragon Age, Final Fantasy, Fallout, Diablo, Avatar: The Last Airbender, Star Trek, Austin Powers, and many more!
– A brilliant soundtrack recorded with live instruments composed by none other than Peter McConnell of Grim Fandango, Monkey Island, and Psychonauts fame!
We also have the following trailer:
Voodoo Detective will cost $14.99 on the Switch eShop.
Source: Short Sleeve Studio PR
Leave a Reply