While We Wait Here, story-driven psychological horror game, coming to Switch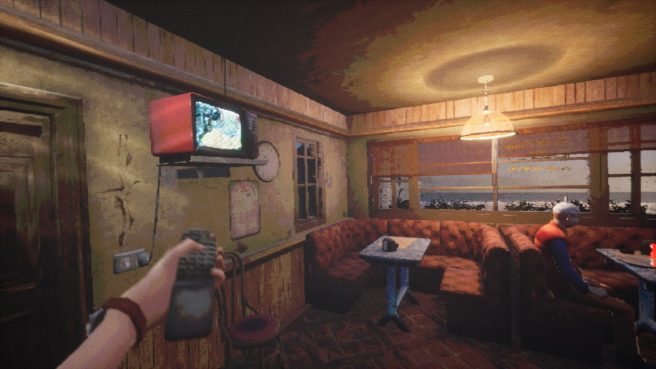 Bad Vices Games will release While We Wait Here on Switch, the studio confirmed today. A release is planned for sometime in 2024.
While We Wait Here is a story-driven psychological horror game in which players share thoughts and hot food with clients while the end of the world approaches. For additional details, check out the following overview:
While We Wait Here is a psychological, story driven horror game that blends the everyday with the surreal, presenting players with varying storylines, dialogue choices and multiple endings. Immerse yourself in the roles of Cliff and Nora, diner owners doing business on a desolate highway linking towns with the mountain range.

Cater to customers, cooking up tasty classics and serve refreshing beverages, all the while the world grapples with what seems to be an impending catastrophe.

Go beyond, meeting various characters from town and experience their last moments, as fates intertwine, relationships shatter, and the human condition is stretched to its limits, when tranquility is replaced by the gut-wrenching announcement that the world may very soon end.

Enter the diner, engage in profound conversations, listen to customers' stories, and offer them food for thought. Some downplay the looming crisis, others see it as divine retribution for their past actions, but what would you do? Will you persuade yourself and your customers to seek shelter, or will you choose to stay at the diner, awaiting the inevitable?

Key Features

Engage in deep conversations with customers as you wait for the storm to unfold while managing a busy diner.
Experience a psychological horror narrative with multiple endings, addressing the unique dilemmas of each troubled customer.
Immerse yourself in a meditative gaming experience where there are no right or wrong choices; every decision is yours alone to make.
Encounter dozens of unique first-person interactions that reveal the full spectrum of human emotions when faced with impending doom.
Enjoy fully voiced-over characters in English and 11 language localizations.
Prepare to embark on a one-of-a-kind journey where your choices will shape the fate of both the customers and yourself. While We Wait Here goes beyond the kitchen management activities of Cliff and Nora; it's an exploration of the human psyche in the face of imminent catastrophe.
We have a trailer for While We Wait Here below.
Announcement Trailer
Leave a Reply