Zombiotik planned for Switch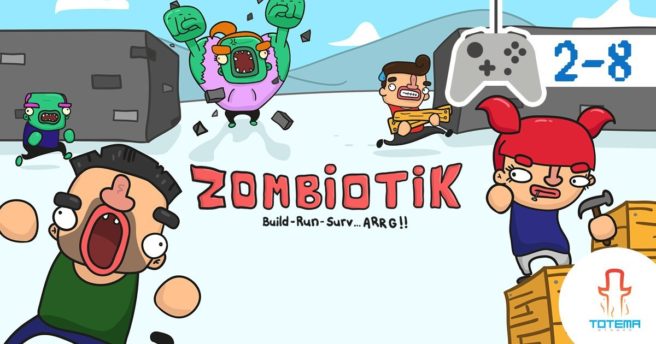 Following a successful Kickstarter campaign, Zombiotik will be brought to Switch. Totema Studio hopes to have it ready by August 2020 at the latest.
Here's an introduction to the local multiplayer, tag-inspired game:
Zombiotik is a 3D local multiplayer video game based on tag and created by Totema Studio. It can be played by up to 8 players simultaneously. Zombiotik offers a quick and exciting experience to all levels of gamers with it's simple controls and mechanics.

Who knew a contaminated yogurt would lead the world to its doom? Humans would get infected by what quickly became a zombie pandemic.

This family friendly game can be played by 1 to 8 players on a single screen.

Pandemic: 2 to 8 players play against each other to reach the highest score after 3 matches.
Time Attack: 2 to 8 players play against each other. The matches have a time limit and the first player to reach 3 points wins. Points are made by surviving or by infecting the last human.
Last Man Standing: 1 to 8 players survive as long as possible against a growing number of zombie AIs. The last person standing wins.
Coop Survival: 1 to 8 players against a growing number of zombie AIs. Work together to survive as long as possible against the horde.Play in any of 4 game modes: Pandemic, Time Attack, Last Man Standing and Coop Survival.

Choose among 8 different game maps, each with its own personality.
Players start the game as humans and, once infected, keep playing as zombies until the end of the match. Nobody is set aside during the game.
Humans can build and upgrade barricades to protect themselves from the invincible zombies.
Zombies must catch humans. They can find contaminated yogurts to gain super "beyond-the-grave" powers.
Zombiotik will be made available in both English and& French.
And a trailer:
If you'd like to contribute to the Zombiotik Kickstarter campaign, you can do so here.
Leave a Reply