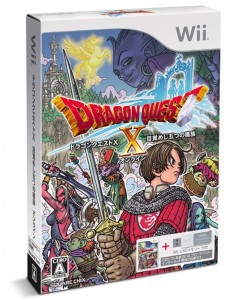 A Dragon Quest X Wii hardware bundle is on its way to Japan.
Although not officially announced, Nintendo's release calender lists "Dragon Quest X Wii System Bundle". It'll include a hardware system, a copy of the game, a black Classic Controller Pro, a Wii USB Memory card, and a ¥1000 Nintendo Prepaid card. Pricing details will be provided once the bundle is made official.
There's also a second, non-hardware bundle planned for Japan which includes the game and a Wii USB Memory card. You can find the boxart for its packaging above.
Thanks to 4Him for the tip.