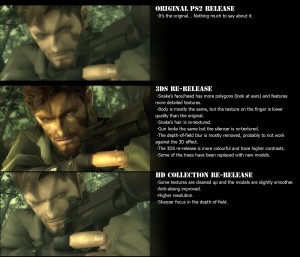 Metal Gear Solid: Snake Eater 3D has largely been considered irrelevant due to to Metal Gear Solid HD Collection. The collection is already out on the PlayStation 3 and Xbox 360 and technically gives you more bang for your buck as it features three titles from the series – including Metal Gear Solid 3.
Some series followers have also argued that the visuals in Snake Eater 3D have seen a downgrade compared to the original PS2 title. That did appear to be the case with some early screenshots, but a new round of images shows that the game's graphics have improved a bit.
You can find an image comparison of all three Metal Gear Solid 3 versions (PS2, 3DS, and PlayStation 3/Xbox 360 editions from the HD Collection) above.