Photos of the Switch unexpected places event with WWE Superstar John Cena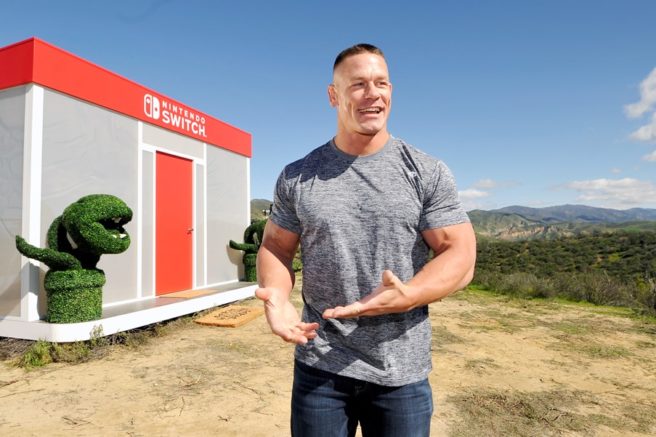 The first of Nintendo's "unexpected places" events with Switch was held earlier today. This was the one that had WWE Superstar John Cena in attendance.
Nintendo has followed up on this week's announcement by putting out a few photos. We have them below, along with descriptions.
Photo: Switch 1.jpg
In this photo provided by Nintendo of America, local fans play The Legend of Zelda: Breath of the Wild on the Nintendo Switch system while it is in handheld mode in the California desert on February 23, 2017 at Blue Cloud Movie Ranch in Santa Clarita, California. (Photo by John Sciulli/Getty Images for Nintendo of America)

Photo: Switch 2.jpg
John Cena, WWE Superstar, hosts Nintendo Switch in Unexpected Places for the Nintendo Switch system on February 23, 2017 at Blue Cloud Movie Ranch in Santa Clarita, California. (Photo by John Sciulli/Getty Images for Nintendo of America)

Photo: Switch 3.jpg
In this photo provided by Nintendo of America, fans play the 1-2-Switch in tabletop mode in the California desert on February 23, 2017 at Blue Cloud Movie Ranch in Santa Clarita, California. (Photo by John Sciulli/Getty Images for Nintendo of America)

Photo: Switch 4.jpg
John Cena, WWE Superstar, plays The Legend of Zelda: Breath of the Wild on Nintendo Switch system while it is in TV mode, at the Nintendo Switch in Unexpected Places for the Nintendo Switch system on February 23, 2017 at Blue Cloud Movie Ranch in Santa Clarita, California. (Photo by John Sciulli/Getty Images for Nintendo of America)

Photo: Switch 5.jpg
In this photo provided by Nintendo of America, the Nintendo Switch in Unexpected Places activation is set against the backdrop of the California desert on February 23, 2017 at Blue Cloud Movie Ranch in Santa Clarita, California. (Photo by John Sciulli/Getty Images for Nintendo of America)
Source: Nintendo PR
Leave a Reply