Pokemon Sun & Moon demo: what you need to know about sending stuff to the full version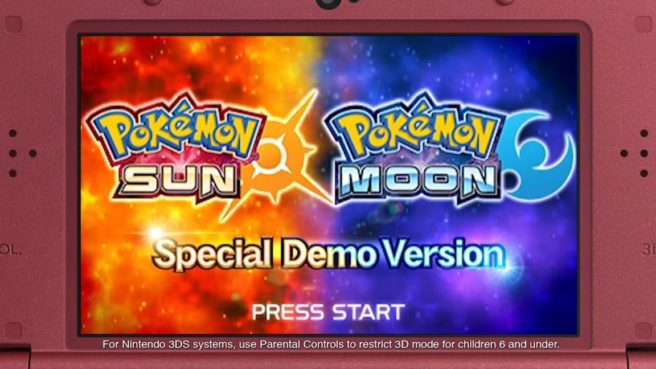 Update 2: The second special event is available if you've had the demo for at least four days. There is a small conversation with Lillie, who will be a main character in the full game.
---
Update: The first special event is now available if you've had the demo for at least a day. Talk to the man outside the Pokemon Center to recieve 10 Pretty Wings.
---
One of the incentives for playing the Pokemon Sun & Moon demo is the ability to send stuff from the demo to the full version of the game. In the demo, there are various tasks you can take on – once you clear them, your reward will be something that you can send to the full version of the game. Just talk to Professor Kukui in the Pokemon Center and select what you want to send. Note, however, that you need save data from the full version to do this, so you can't send anything just yet.
Here is a list of tasks and their respective rewards:
Clear the "main" part of the story, i.e. beat Plumeria – Greninja
Beat three trainers on Ten Carat Hill, then beat the Ace Trainer near the exit – Star Piece
Catch three Pokemon for the first time in the Pokemon-catching challenge on Ten Carat Hill – Nugget
Talk to the woman on the eastern exit of the city (near the Slowpoke), then clear all the rocks with Tauros – Stardust x3
Just like with the Pokemon Omega Ruby & Alpha Sapphire demo, there is an incentive to keep playing the Sun & Moon demo – several events happen only a set number of days after you play the demo for the first time. We don't know for sure yet, but it seems likely that these events will give you additional items to transfer to the full game. These are the events we could find:
1 day – man right outside the Pokemon Center
5 days – woman wearing a big hat west of Hau'oli City Hall
12 days – man with a Pikachu inside Hau'oli City Hall
18 days – police officer at the Marina
24 days – woman inside the Ferry Terminal
We will keep you updated on these events.
Leave a Reply