Switch eShop adds "Best Sellers" section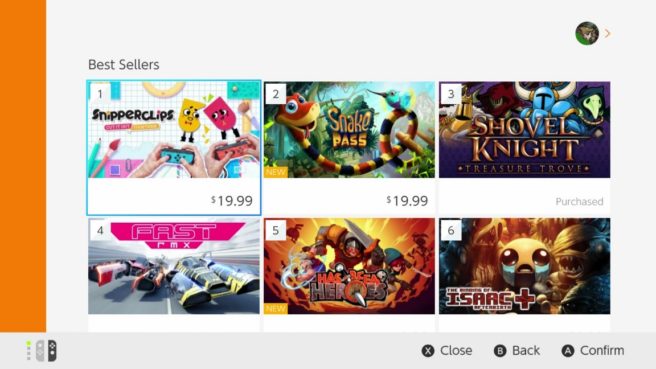 Following tonight's maintenance, a new section has been added to the Switch eShop. The digital store now has a "Best Sellers" category ("Charts" in Europe) showing the best-selling games. The information is based on software with the most downloads over the past two weeks.
Initial charts are available for North America, Europe, and Japan. We've posted all of the information below (in our case we're specifically posted the UK charts since Europe's ranking is set per country), and we'll be adding these charts to our usual lineup just like Wii U and 3DS.
North America
1. Snipperclips
2. Snake Pass
3. Shovel Knight: Treasure Trove
4. FAST RMX
5. Has-Been Heroes
6. The Binding of Isaac: Afterbirth+
7. Zelda: Breath of the Wild
8. ACA NeoGeo Metal Slug
9. Blaster Master Zero
10. 1-2-Switch
11. ACA NeoGeo Metal Slug 3
12. Super Bomberman R
13. I Am Setsuna
14. ACA NeoGeo The King of Fighters '98
15. World of Goo
UK
1. Snake Pass
2. Snipperclips
3. FAST RMX
4. Shovel Knight: Treasure Trove
5. ACA NeoGeo Metal Slug
6. 1-2-Switch
7. World of Goo
8. Zelda: Breath of the Wild
9. Human Resource Machine
10. ACA NeoGeo Metal Slug 3
11. Little Inferno
12. Super Bomberman R
13. Blaster Master Zero
14. ACA NeoGeo Neo Turf Masters
15. I Am Setsuna
Japan
1. Snipperclips
2. Zelda: Breath of the Wild
3. 1-2-Switch
4. ACA NeoGeo Metal Slug
5. ACA NeoGeo Metal Slug 3
6. Othello
7. ACA NeoGeo The King of Fighters '98
8. New Frontier Days: Founding Pioneers
9. Super Bomberman R
10. Voez
11. Disgaea 5 Complete
12. Puyo Puyo Tetris
13. Romance of the Three Kingdoms XIII
14. Blaster Master Zero
15. ACA NeoGeo The King of Fighters '94
Source: Switch eShop
Leave a Reply