303 Squadron: Battle of Britain lined up for Switch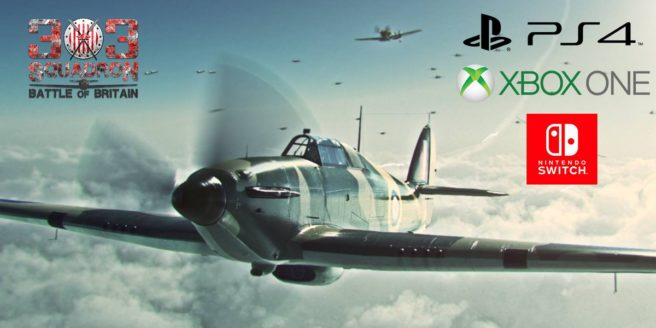 303 Squadron: Battle of Britain was funded earlier this year via Kickstarter. Atomic Jelly, the project's publisher, has now confirmed that a Switch version is in the cards. Movie Games SA and SimFabric are helping to make it happen.
303 Squadron: Battle of Britain promises first aerial combat and mechanic simulator gameplay. We have additional details and a couple of trailers below.
303 Squadron: Battle of Britain portrays the life of WWII heroes from an unique perspective. Joining the 303 Squadron you will fight with other pilots in realistic history-based battles, but also repair your planes in 1st Person Mechanic Mode. The open world of RAF Northolt Base allows you to experience the daily life's struggles of War and discover countless additional side-missions.

Thanks to the variety of available roles, you will be able to embrace the real life of Fighter Squadron and get to know the importance of each role- from the ground crew to the pilot.

The gameplay is entirely based on historical events. All the characters, missions, even planes' mechanics is precisely and realistically recreated in order to deliver the most exciting, unique and inimitable experience. Most importantly, 303 Squadron: Battle of Britain is a game, but also a tribute to all the heroes of 303, and other, Squadrons.

No. 303 Fighter Squadron was formed in Britain in July 1940 comprised of polish and other nations pilots. It fought alongside other RAF units in the Battle of Britain. The 303 Squdadron was well-known for its bravado, fearless attitude, precision and professionalism. During the WWII, they were one of the most effective units of Royal Air Force.

Now, you can learn about those heroes. And become one of them.

Main features:
– Missions and aerial combats based on an actual day-by-day skirmishes documented in the Battle's calendar by one of the participants
– Realistic physics and movement of fighter planes based on their actual parameters
– 1st Plane Mechanic Mode of Hawker Hurricanes
– Open world of RAF Northolt Base with hidden side-missions and characters influencing the gameplay
Thanks to m_t for the tip.
Leave a Reply