3D puzzle platformer Tinykin announced for Switch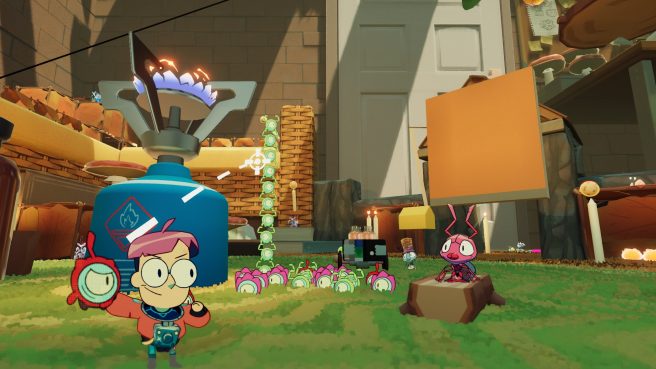 Earlier this summer, publisher tinyBuild and developer Splashteam – the studio behind Splasher – first unveiled Tinykin. Today, it's been confirmed that the 3D puzzle platformer will be released on Switch.
Tinykin takes place in the year 2748 with main character Milo rediscovering Earth. But once he lands on the planet, he discovers that he's no bigger than a penny, everyone is gone, and for some reason it's the '90s. You'll ultimately be looking to return home and unravel the mystery involving the Earth.
The main idea behind the game involves partnering with the mysterious tinykin. You'll be able to use their powers to make ladders, bridges, explosions and a lot more. There'll be a variety of areas to visit, including cities of ants, beetles and other insects built inside of a giant house. Players will be able to find over a hundred tinykin in each city, and then use their abilities to climb higher, break down doors and solve the city's problems.
tinyBuild and Splashteam have confirmed a few other elements as well. Players will encounter different characters and learn their stories and history, ride around on Milo's tiny soap-board, collect upgrades to improve his bubble-pack, build out the Ardwin Museum, and complete Ridmi's mysterious machine.
Have a look at a trailer for Tinykin below that gives a better look at the game.
Tinykin arrives for Switch in Summer 2022. Look forward to more news in the future, including a release date.
You can keep track of Tinykin through the official website here.
Leave a Reply