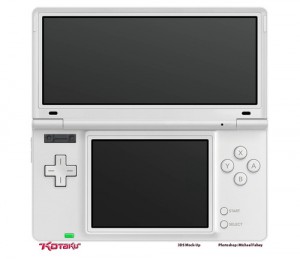 The image above is based on a drawing created by a Chinese blogger who says he has a 3DS development kit. There are also a number of unconfirmed details about the system, which we've posted below.
– 3D camera
– Differently-designed screens
– The blogger says "the effect of the [3D] screen is amazing."
– MP3/AAC hardware decode function
– Media player
– Will have a second, proprietary medium for 3DS games
– 3DS titles will fit on a card similar in size to a Compact Flash card
– May be able to put in 3DS and DS games in the same slot
– Might not have an analog stick
– Possible tilt sensor/accelerometer
– Might be as powerful as the Wii
Original drawing from the Chinese blogger below: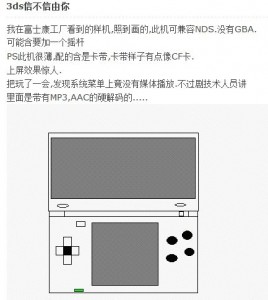 You know, I really can't wait until the 3DS is shown on Tuesday. All of the speculation and mock-ups are driving me crazy!
Leave a Reply