8-bit action platformer Trophy incoming for Switch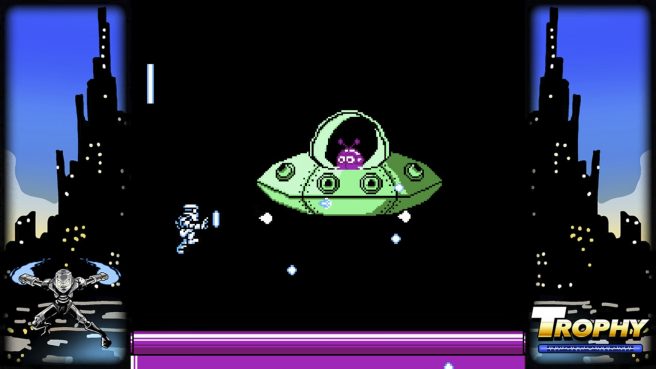 Today, publisher 8-Bit Legit and developer Gradual Games announced that they're bringing Trophy to Switch. It'll be ready to go this week – specifically February 2, 2023.
Trophy, an 8-bit action platformer that previously released as a NES cartridge, "features the classic movements of running, jumping, and shooting, and strives for a pure platforming experience, unhampered by excessive power-ups or useless abilities." Games like Mega Man and Capcom's Disney classics have been cited as inspirations.
Here's a bunch of additional information:
Trophy was programmed from the ground up in 6502 assembly language by Derek Andrews of Gradual Games over the course of three years. He also did the music for the game, with Laurie Andrews drawing the graphics. Andrews has been programming for the NES for a decade, and Trophy is Gradual Games' third release, following on the heels of Nomolos: Storming the Catsle (2012) and The Legends of Owlia (2016). The character of Trophy began life in Derek's mind when he was 12 years old, as a simple drawing of a robot with a head that looked a bit like a trophy cup. Twenty-plus years later and the world is able to see his childhood idea come true.

In NES cartridge form, Trophy was published by The 6502 Collective, a joint effort between Retrotainment Games (Haunted: Halloween '85, Haunted: Halloween '86, Full Quiet, Garbage Pail Kids) and Sole Goose Productions (Swords and Runes, 0-to-X, Spook-o'-tron).

Key Features

Nine levels of intense, platforming action
Experience authentic retro gameplay
Check out 3 swappable gameplay borders on both Nintendo Switch and Xbox
Leaf through the original manual in-game during your attempt to save Gearus 9
Explore diverse environments and terrain
Blast your way through large, fully-scrolling levels
Search for hidden areas and power-ups
Parallax scrolling
Cut-scene narrative segments
Password system
Face off against nine GIANT bosses
Take a look at a trailer for the game below.
Trophy will cost $9.99 on the Switch eShop. You can pre-order the title now.
Leave a Reply