88 Heroes – 98 Heroes Edition officially coming to Switch next month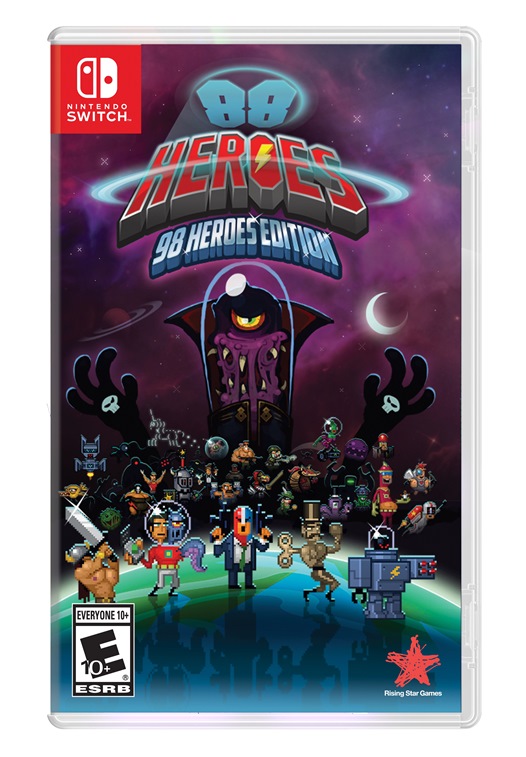 Retailer listings leaked it previously, but Rising Star Games officially announced 88 Heroes – 98 Heroes Edition for Switch today.
88 Heroes – 98 Heroes Edition is a "complete" version of the original game. The "RSG Champions" DLC pack is included here, as well as the upcoming "H8 Mode Activate" DLC.
In the "RSG Champions" DLC pack, players will find eight playable heroes taken from other indie games published by Rising Star Games, including Rusty from SteamWorld Collection, Gunborg from Zombie Vikings, and Conga Master from the game of the same name. As for the "H8 Mode Activate" pack, two more playable characters will be offered along with a collection of eight hardcore challenge levels.
88 Heroes – 98 Heroes Edition launches physically and digitally in North America on October 2. Other regions will have it on October 10. We've included an overview for for 88 Heroes – 98 Heroes Edition below along with a trailer.
It's 8:08am on 8th August 1988, and the evil Dr. H8 has brought the world to the brink of total annihilation! His demands are simple: pay $88 octillion within 88 minutes, or Dr. H8's 88 thermo-nuclear warheads will wipe out the Earth! But who will save us in our time of need? The bravest? The boldest? No… the 88 Heroes!

Prepare to infiltrate Dr. H8's lair with the help of the strangest, dumbest and most pointless superheroes ever! With 88 levels between you and Dr. H8, only 88 seconds to complete each level and the 88-minute Doomsday clock already ticking, lead a unique band of heroes – each with their own special abilities – on a platform-hopping, enemy-smashing, danger-dodging mission to save Earth from complete destruction. And with ten extra heroes and a new mode featuring eight of the toughest challenges yet, 88 Heroes – 98 Heroes Edition for Nintendo Switch™ has everything you need to defeat evil once and for all!
Source: Rising Star Games PR
Leave a Reply