Monster Hunter 3 graphics so impressive that Zelda team faced pressure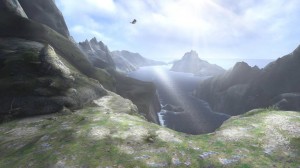 Just how impressive are the graphics in Monster Hunter 3? Well, apparently they stunned Nintendo designers and members of the Zelda team. In an Iwata Asks interview, Nintendo's boss stated that the Zelda devs were under intense pressure after seeing how the game looked. Perhaps this is an indication that the visuals in Link's next outing will be a top priority.
Members from the Monster Hunter 3 team also noted that they understood Nintendo's console hasn't been known for featuring the most excellent graphics, but that they are imperative to the Monster Hunter experience. Therefore, the team was striving to make Monster Hunter 3 the best-looking title on the platform.
There were a number of other details from the interview, some of which you can check out below.
– Motion control was considered at one point but was cut because it would be too tiring for gamers playing for long hours
– The game almost didn't make an appearance at TGS last year because they had just finished mapping the controls – There was relief when good feedback for the Wiimote was relayed
– Nintendo approached the team regarding the Classic Controller Pro – This marks the first time Nintendo has worked with a third-party company to create new Wii hardware
Leave a Reply