A look at some amazing creations made with Nintendo Labo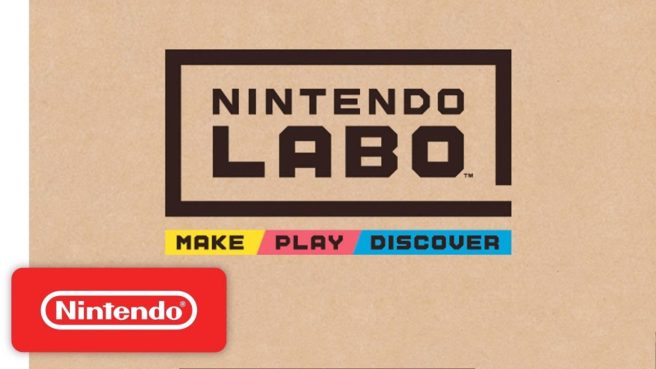 It's been about a week since Nintendo Labo debuted around the world – though Europe just joined us on Friday. Since then, users have proven that Labo is more than just a toy or a simple add-on for Switch.
Part of the reason that people have been able to come up with a wide variety of creations is thanks to the Toy-Con Garage. With this aspect of Labo, Nintendo is allowing for rudimentary programming. That means you're not just stuck with the standard Toy-Cons and software.
We thought it might be interesting to spotlight some of the creations that have been shared online over the past week. Continue on below for a look at a few creations that have gained some attention.
アメがもらえる音ゲー作ってみた件 #NintendoLabo #ニンテンドーラボ pic.twitter.com/Kawhret7qh

— 模索する俺たち (@mo3ore) April 21, 2018
I got way too ambitious with my second #NintendoLabo ToyCon Garage project, and others have beaten me to the punch. But I enjoyed puzzling it out and learnt a lot about what the Garage is capable of. pic.twitter.com/YLhPjxNPaX

— Leaving Luck (@LeavingLuck) April 25, 2018
ボール試作 #NintendoLabo #NintendoSwitch pic.twitter.com/tVytVQgvh1

— 飛田純平@ジャンピィ (@JUMPINGREEN) April 23, 2018
ニンテンドーラボで簡単な工作
『流れ星の魔法使い』#ニンテンドーラボ #NintendoLabo pic.twitter.com/8HFqOzN7YM

— 月本せいじ (@TsukimotoSeiji) April 20, 2018
https://twitter.com/mattyo_39/status/988395612058992643
ニンテンドーラボで、リアル脱出ゲームに出てきそうな装置を作ってみました。(音付き動画なのでヘッドホン推奨です)#一日一絵 #NintendoLabo #ニンテンドーラボ pic.twitter.com/DFB9jShMni

— あやたろす (@ayataross) April 24, 2018
ニンテンドーラボで鍵が開いた時に例の音が鳴るやつ作った pic.twitter.com/sY2VkpEfwl

— みかんねこ (@96pen) April 23, 2018
ニンテンドーラボで箱を開けたらあの音が鳴るやつ作った #NintendoLabo pic.twitter.com/1sYbwGrHRw

— みかんねこ (@96pen) April 26, 2018
デジ顔〜ボタンとかスティックで表情操作できるぞ #Nintendo_Labo #ニンテンドーラボ pic.twitter.com/DsVJNQQTZ5

— かげひと (@hitokage22) April 21, 2018
My first #NintendoLabo ToyCon Garage project aka throwing things at a hat. #NintendoSwitch pic.twitter.com/fCdagEDN1x

— Leaving Luck (@LeavingLuck) April 21, 2018
今までのやつの応用でラーメンタイマー作ったわ
#NintendoLabo #NintendoSwitch pic.twitter.com/7qm93YcHkK

— おにぎり△ (@riceball0712) April 20, 2018
Lastly, a bonus:
#NintendoLabo inspired us to be more creative with cardboard. And since we're such experts at packing things in boxes, well… pic.twitter.com/OM1BFo8UuT

— The UPS Store (@TheUPSStore) April 26, 2018
Leave a Reply