Action platformer Klaus Lee: Thunderballs announced for Switch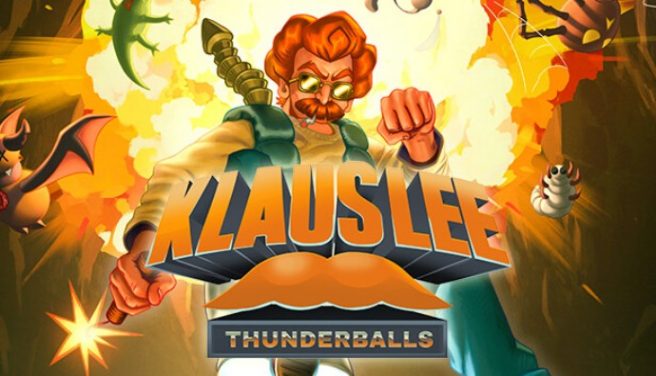 Publisher Assemble Entertainment and developer NUKKLEAR today announced Klaus Lee: Thunderballs, a new 2D action platformer. Switch owners can expect it later in 2023.
The game has players taking on the role of Klaus Lee as they find out what it means to become the most impressive hero the world has never heard of. More information can be found in the following overview:
Taking the role of the titular mustached spelunker Klaus Lee, players will explore virtual worlds ranging from deep underground caverns to buried civilizations – all of which are utterly dripping in rich, neon-hued, heavily intoxicated '80s inspired visuals and bawdy humor. German ingenuity never looked so good.

Klaus Lee wasn't always battling enemies in a side-scrolling adventure-platformer, though. He was once a Beverly Hills cop, then a private investigator and Hollywood stuntman who also taught Chuck Norris how to walk, taught Gene Simmons how to rock, and dated all of Charlie's Angels at the same time. You might say Klaus Lee is a man who's truly done it all. He even taught Maverick how to fly. But even the world's most interesting men aren't immune to the powers of rudimentary '80's technology, which is how he got sucked into his TV screen and ended up in a video game.

So, what will you do as such a mythical man? Stuck in a video game from the 80's, you're of course trapped in an old school platformer. But don't you dare think it's going to be boring just because it's old. You get to utilize a jetpack, dynamite, and even laser vision as you traverse your way through over 100 unique levels.

With the handy-dandy level editor, take your creative skills to the next level (literally) with robust design options where anything you dream can be created, destroyed, and created again. With hundreds of options and endless possibilities, put your mightiest ideas to the test and have Klaus Lee try them out, then unleash them to the world via cross-platform level-sharing ability. Then, be sure to try out other community-created levels to see if you can outsmart them. Of course you will, but we have to say that.

Key Features

Where'd I Put My Mustache Oil?: Join the mustachioed hero Klaus Lee through a classically crafted story of humor and fun where the '80s clichés know no bounds.
Prepare For Take-Off: Strap on your old school, high power jetpack to travel through more than 100 unique, brain-bending levels, then, power your way through levels created by fellow Klaus Lee superfans.
Spikes & Bats & Bugs, Oh My!: Deadly traps and vile beasts of all sizes ensure this adventure-platformer is never short on action. Dodge nasty insects, temple traps, and other hazards where every level is a puzzle to be solved!
Games Couldn't Do This Back In My Day: Enjoy cross-platform functionality to see what everyone, everywhere is up to and creating in the wonderful world of Klaus Lee.
Take a look at a trailer for Klaus Lee: Thunderballs below.
The game will be sold digitally via the eShop. Access the official site here.
Leave a Reply