Action platformer Mr. Run and Jump heading to Switch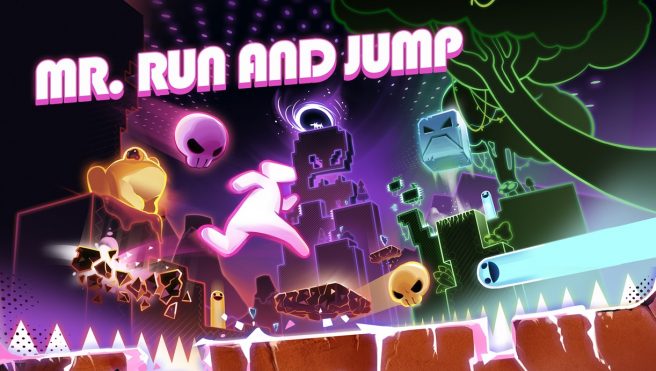 Today, Atari announced Mr. Run and Jump for Switch in partnership with developer Graphite Lab. It'll be available later in 2023.
Mr. Run and Jump, an action platformer, was originally made in 2021 as an Atari 2600 game. Further information can be found in the following overview:
It's dangerous business going out your front door, especially when you're exploring the Realms of Color, where the titular Mr. Run and Jump must embark on a fast-paced, fluorescent adventure to defeat the ghastly Void and find his missing dog, Leap.

Mr. Run and Jump features precise controls, silky smooth gameplay, and free-flowing level design, making it a speedrunner's dream. Run, jump, dash, and roll to hard-to-reach locations to find collectibles, or adjust the difficulty level via Dynamic Assistance to enjoy a more approachable experience with the heart-pounding peril cranked down a couple of notches.

Mr. Run and Jump was originally created in 2021 as an Atari 2600 game, designed by John Mikula, a developer at St. Louis-based indie studio Graphite Lab. Its precise platforming showcases the legacy 2600 hardware, still capable of engaging hobbyists and fans 40+ years after its release. The teams at Atari and Graphite Lab were so enamored with the 2600 title that they teamed up to create a modern version of Mr. Run and Jump, highlighting the best of the 2600 title for modern consoles and PCs, and layering in a beautiful landscape of color and sound.

Key Features

Dozens of unique levels within six distinct, vibrant, and beautifully illustrated worlds
A variety of devious enemies, each with their own attack patterns and personalities
30+ hours of gameplay including Time Trials, hard-to-reach collectibles, achievements, and more
Precise controls make Mr. Run and Jump's platforming as smooth as butter
An original story of a transformed world, a devouring Void, and all the wonders of the Realms of Color
Graphite Lab owner and studio director Matt Raithel said: "We are thrilled to introduce Mr. Run and Jump to gamers worldwide. Dazzling animation, intense platforming, and approachable characters all come together in a package that was made better with the help and support of the team at Atari."
Check out a trailer for the game below.
Leave a Reply