Action platformer The Company Man heading to Switch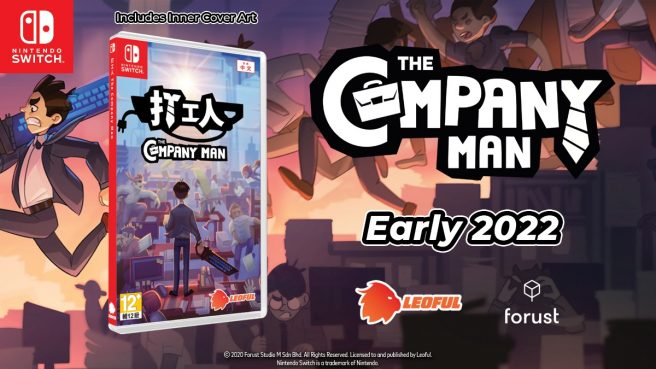 Publisher Leoful and developer Forust have announced that The Company Man, an action platformer and office adventure game, is heading to Switch. It will release in early 2022.
The Company Man, which takes inspiration from the television show "The Office", has you playing as the young salaryman Jim who starts out at the Good Water Company. He sets out to overthrow his boss and become the CEO as he's unsatisfied with how the company is run. You'll launch email attacks against coworkers with a powerful keyboard, run and jump across departments from Human Resources to Marketing, and boost up with coffee beans.
The Company Man has seven corporate departments containing booby traps, quirky coworkers, and tough bosses. A couple of the hand-painted environments include the air-conditioned icy floors in Accounting and endless mountains of paperwork in Human Resources. Features include spending coins earned from beating up coworkers at the Coffee Shop for health and stamina boosting coffee beans, gauntlet dungeons where Jim is forced to fight wave after wave of coworkers, and various difficulty levels.
Take a look at a trailer for The Company Man below.
The Company Man will be sold digitally for Switch via the eShop for a price of $19.99. It will also be sold physically at select retailers in Hong Kong, Taiwan, Singapore, and other Southeast Asia markets.
You can access the game's official site here.
Source: Leoful PR
Leave a Reply