Additional details on Destiny Connect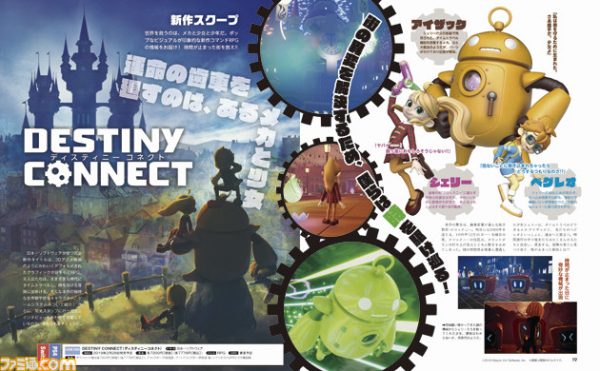 Following the initial announcement of the original RPG Destiny Connect by Nippon Ichi Software yesterday, some additional details have surfaced about the game.
The information gives first insight into the development of the new title, as well as the story of it. We've compiled a list of the news from Gematsu's full article on Destiny Connect below.
The cost of the game is 7,200 yen in Japan.
The art director is Yu Inaba.
The game uses cute, deformed graphics such as those seen in 3D animated movies, and the main characters time-travel to various periods in order to save a town in which time has stopped.
The setting of the story is Clocknee, a suburban town with a thriving gear industry. On December 31, 1999—New Year's Eve—the town's residents suddenly stop moving. Sherry and company, joined by a mecha named Isaac with the ability to time travel, travel to the past to find out why time has stopped.
Sherry: A curious young girl who lives in Clocknee.
Isaac: A mecha equipped with a time travel function that Sherry finds in her father's room. Since his parts are damaged, his memories are unclear.
Pegreo: A boy and Sherry's childhood friend. He is shy and often worries.
Battles are command-based and trigger upon encountering a symbol on the map. Party members and enemies take action in order of speed.
Director Yoshihiko Toda said that this is a game with the atmosphere of a classic Super Famicom RPG from the 1990s.
Scenario writer Jun Yokota said that the Year 2000 problem, or Y2K, is one of the origins of the story's concept. While the incident never occurred, Yokota became an adult and learned various stories such as system engineers working hard behind the scenes, and the thought that the incident was prevented before it could occur became the source of his idea.
Development is currently 70 percent complete.
Leave a Reply