Adventure horror cooking game Happy's Humble Burger Farm coming to Switch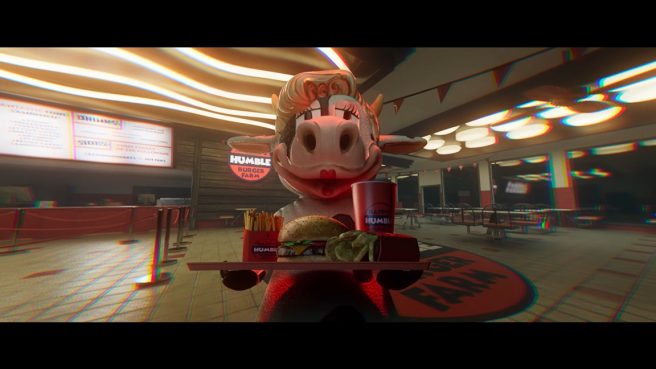 Happy's Humble Burger Farm is in the works for Switch, publisher tinyBuild and developer Scythe Dev Team confirmed today. It's currently targeting release for Q4 2021.
Happy's Humble Burger Farm is a first-person adventure horror cooking simulator. It follows the free itch.io title Happy's Humble Burger Barn, which released in 2020.
True to the simulator genre, you'll be cooking food, filling drinks, and pouring drinks. If you mess up by giving the wrong order or taking too long, you'll receive an infraction. Something will happen when you get three of these infractions, but the specifics haven't be detailed. We do know that "Happy the Humble Heifer isn't as joyful when the customers are upset."
An upgrade system is included to make your job easier at the restaurant. Events will occur involving fires, rats, and even taking out the trash.
The game as a whole has you discovering the dark secrets of the Happy's Humble franchise by exploring New Elysian City. You can hit up the Steal 'n' Sell and earn credits for things you find on your travels, find audio logs and research papers to unravel the game's mystery, zone out to about two hours of talk radio and over 60 TV programs, and more. Other areas include the Jazzy Java Joint, New Elysian Museum, and Legacy Lawns Cemetery. If you only care about cooking, you can unlock Endless Mode that focuses on just that.
We have a couple of trailers for Happy's Humble Burger Farm below.
Access the official website here.
Source: tinyBuild PR
Leave a Reply