Agatha Christie – Hercule Poirot: The London Case announced for Switch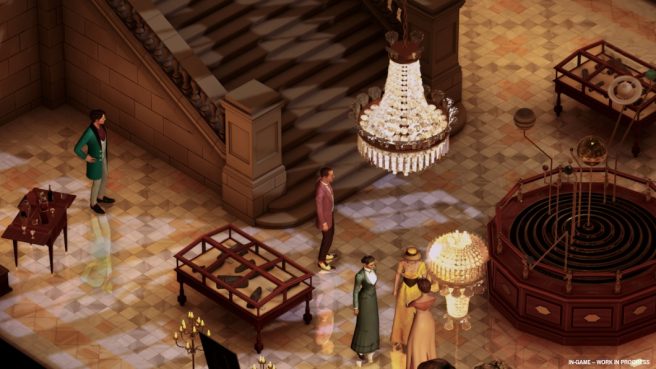 Publisher Microids and developer Blazing Griffin today announced Agatha Christie – Hercule Poirot: The London Case, a new detective adventure game for Switch. The sequel to Hercule Poirot: The First Cases launches this summer.
Here's what's been shared thus far:
In this new chapter for Hercule Poirot, players will experience an exciting, original story, true to the style and tone of Agatha Christie, in which they will be introduced to Arthur Hastings, Poirot's beloved sidekick.

Together, they have been charged with the safe transport of a priceless work of art on its way to be displayed in London. However, the opening night will not go to plan… the detectives will be called upon to solve a brand-new mystery in the heart of London.

Agatha Christie – Hercule Poirot: The London Case will feature a compelling gameplay and will bring you in Hercule Poirot's world. Explore the capital, search for clues, interview suspects and witnesses, and solve this all-new investigation.

Key Features

A brand-new mystery – Written by the award-winning team who bought you Agatha Christie – Hercule Poirot: The First Cases comes a gripping new adventure for Poirot with a whole new cast of characters to challenge the great detective.
Witnesses and Suspect Interrogations – Solve mysteries and challenge suspects using the new match puzzle system to spot inconsistencies on the spot.
Environment and Item Inspection – Explore all new environments and get up close with new first person inspection puzzles for a more cinematic view of the scenes.
Mindmaps and Character Profiles – The game's trademark mindmaps return allowing you to use Poirot's famous little grey cells to build challenging mindmaps and then draw the correct links that can solve the case. The same now applies to the various suspects as Poirot gathers facts and information about each one to build detailed character profiles, key to solving the case and finding the true criminal among them.
Enhanced Environments – More detail, weather effects and enhanced audio all provide more depth and life to each of the new isometric game scenes across London.
Fully Voiced – The story comes to life with a fully voiced script in English, French and German
Agatha Christie – Hercule Poirot: The London Case will be available both physically and digitally on Switch.
Source: Microids PR
Leave a Reply