Animal Crossing: New Horizons devs on creating the villagers, early designs shown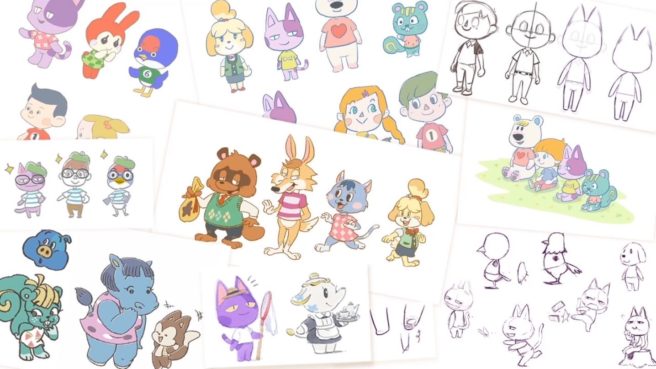 During CEDEC 2020 this week, the team behind Animal Crossing: New Horizons held a special developer session. Information was shared regarding the creation of the game's villagers. As part of that, we have a look at some of the styles that were experimented with above.
Siliconera has a report on the session, which breaks down the approach to visual design and actions of the villagers. We've broken that up into a summary below.
Visual Design
– Animal Crossing: New Horizons has so many villagers so that each player will have their own unique set to show off to others
– To make the villagers beloved by players, the team needed to design them so that players would "want to interact with them" and "want to watch what they are doing"
– This starts with diversifying their appearance
– The animal villagers all have distinctive silhouettes by species in order to make it easy for players to tell which villager they are, even from a distance
– The character designers began with a silhouette so that they would only be able to tell superficial information like "the villager is a cat"
– By limiting the amount of information at the start, it excites the imagination for people to find out just what sort of cat they are
– The silhouettes themselves are very simple
– Even adding a more specific feature like "fluffy fur" does nothing but limit the sort of cats that the developers can think up
– The developers start with the simple silhouette, and create the characters from different textures
– Since they are normal villagers who live life normally on the island, they need to be designed visually so that they don't stand out too much
– In order to give them each an individual presence, they add more details to the designs to give more visual information
– While limiting the silhouette of the characters might seem to limit the expression of creativity in character design, it actually enhances creativity
– The developers can create some villagers with very out-there designs, while still having them be recognized as cats
– When deciding each of the villagers' personalities, the developers looked towards real-life, and how each of the five personalities are perceived in terms of appearance
– It helps create a sense of connection towards the villagers, as players can imagine them being similar to someone they might know
– The 35 villager species are designed to draw out the distinctive traits of their species
– One thing you might not have noticed is that how feelings are expressed are the same no matter the species
– This is also in order to help further the connection between the players and animal villagers
Actions
– The players must not feel like they are robotic or too formulaic in their actions
– Villagers have two general categories of actions: ones that they enact themselves and ones that are derived from their current situation
– These include eating, doing yoga, sweeping the floor, fishing, and more, to show that the villagers are living their lives
– Villagers with an interest in music will be seen more frequently singing
– Villagers who like to read will be seen reading more
– By adjusting the frequency of actions and patterns, the devs are able to make the villagers seem as if they have their own will in what they do
– The villagers will also change their clothes to fit what they are doing
– Actions where the villagers find something and do something depend on what the villagers happen to see at the time – Ex: if they see a bug, they might chase after it to catch it, or they might sit down on furniture that the player has put down
– The change from "doing their own thing" to "doing something with what they found" happens automatically when they find something
– If they changed what they were doing immediately, it would seem too robotic
– The developers made it so that the villagers will look at the object and ponder about it before switching to interacting with whatever object they found, giving players room to imagine what they might be thinking
Leave a Reply