Animal Crossing: New Horizons free 2.0 update launches November 5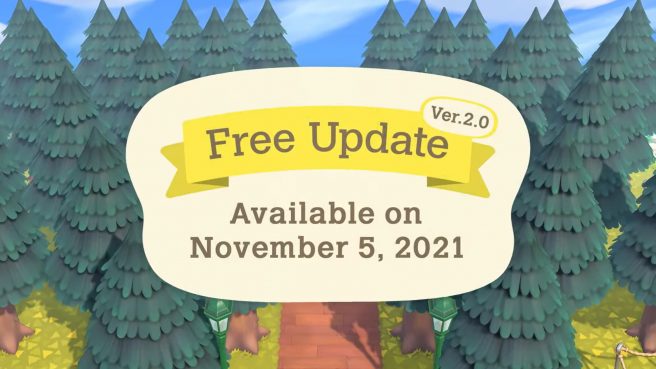 Animal Crossing: New Horizons will be getting a new 2.0 update on November 5, Nintendo has announced. It will be the last major update for the game.
As was teased in the September 2021 Nintendo Direct, The Roost will be added to the game. Players can relax in the cafe with Brewster who will be more than happy to serve you a cup of coffee. Other residents may appear as well. You can invite characters of your choosing by scanning Animal Crossing amiibo figures and cards, and some may bring along company. Multiple players can visit at the same time.
Kapp'n will also be providing new boat tours, and you can visit mysterious islands. They may have a different season, or even a different time of day.
Harv's Island is also getting some changes. Here you can contribute Bells to open shops. Additionally, you can customize ready-made furniture. Katrina will also be able to tell your fortune for the day. And we'd be remiss if we didn't mention that new hairstyles will be available.
Over in the plaza, group stretching has been added. This can be done with either button controls or motion controls.
Another new aspect are ordinances. As an example, with the Early Bird ordinance, all island residents awaken earlier in the morning.
From Tom Nook, more exterior options are available for your house. Max storage capacity has also increased to 5,000.
With Nook Niles, players can get their hands on a new wave of items. Cooking with DIY recipes has been added, too. Various dishes can be made to lay on your dining table.
With the Pro Decorating License, you can add ceiling décor to each room, not to mention accent walls.
The maximum number of bridges and inclines has gone up from eight to ten. New fencing types are on the way as well. You can even customize some fencing.
The camera app is receiving an update, and when switching to Handheld Camera, the view aligns with your eyelevel. You can also be in the picture in tripod mode.
Patterns previously used for customizing items can now be worn. They can also be used as wallpaper in your house.
Eleven new hair styles are planned for Animal Crossing: New Horizons. These include the ones Harriet will teach you. We'll also be seeing a new set of reactions.
Nintendo has also revealed a new Nook Phone app, Island Life 101. The feature provides tips on enjoying your island.
Players can earn more furniture by redeeming Nook Miles.
When your pockets fill up from the day's activities, you can take advantage of a new storage shed. This connects to your home storage and can be placed almost anywhere on the island.
On the topic of convenience, you can use a new ABD to deposit or withdraw Bells.
K.K. Slider is getting some love in the Animal Crossing: New Horizons 2.0 update as he'll be singing more songs. Twelve more tunes will be added, including K.K. Break and K.K. Polka. You can even enjoy them from a new music box furniture item.
Gyroids are making an appearance as part of the update as well. You can dig them up and then plant and water them. Once they've matured, you can place and customize them in your home.
Nook's Cranny is adding new types of furniture like ceiling décor. And with the latter set-up kit, you can permanently place ladders on cliffs.
On a smaller note, Animal Crossing: New Horizons will now let you walk through narrow spaces.
Residents may invite players to their home or make a surprise visit in their house.
Developing…
Leave a Reply