Animal Crossing: New Horizons NPC dialogue has players wondering if an art wing is coming to the museum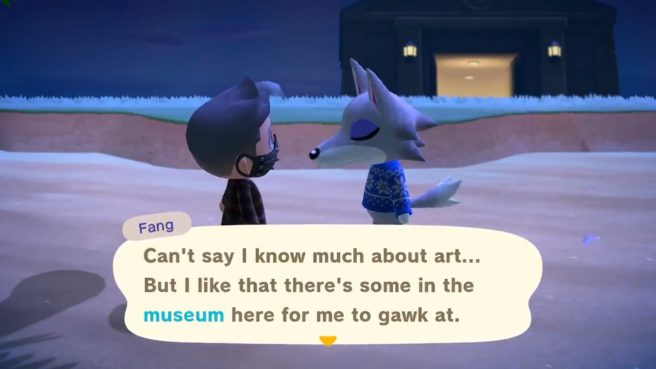 Just like previous Animal Crossing games, New Horizons has its own museum. Players can collect bugs, fish, and fossils and have them displayed. Once one of these items is donated to Blathers, they'll show up in the museum.
Could that museum be expanded in the future? Some dialogue from Fang, one of the game's NPCs, has players speculating about the possibility.
Fang states: "Can't say I know much about art… But I like that there's some in the museum here for me to gawk at. I just kinda stand there for a bit starin' at each piece, tryin' to look real thoughtful-like, cha-chomp. Now and then I might throw in a "hmmm" or maybe an "I see!" Wonder if everyone's fakin' it…"
did fang just leak the art dlc #AnimalCrossing #ACNH #NintendoSwitch pic.twitter.com/eKJxX9lobo

— ka (@sylvidia) April 6, 2020
Whether we actually end up seeing an art wing in Animal Crossing: New Horizons' museum remains to be seen. If we do happen to hear anything on a more official basis, we'll be sure to let you know.
Leave a Reply