Apocalyptic visual novel Archetype Arcadia coming to Switch in October in Japan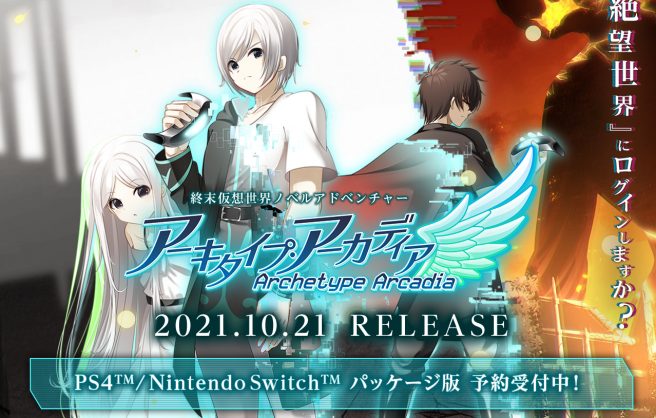 A new visual novel called Archetype Arcadia is coming to Switch on October 21, 2021 in Japan. This game is being developed by Water Phoenix and published by Kemco, and it will launch physically for 4400 yen and digitally for 3980 yen. This game will be fully voiced, but there is no word on English language options yet.
Archetype Arcadia follows a young protagonist and his sister in a post-apocalyptic world as they fight against a growing sickness by playing an online game where memories give them attack power. To expand on this concept further, here is a small excerpt about the story from the official website and a trailer for the game (translation provided by Gematsu):

The world has fallen to Peccato Mania (original sin), which causes self-harm and other injuries.
To save his younger sister Christine, who has been afflicted with the disease, Rust logs in to the full-dive online game "Archetype Arcadia," which is the sole means of stopping the disease's advancement.

Hope, grief, joy, betrayal, and inescapable "death" are found in this game, where players convert their memories into avatars to fight.

This is a fully-voiced text novel adventure game that tells a ghastly story of overwhelming volume, guided by memories that should have been lost.
Leave a Reply