Atari Recharged Collection 1 and 2 physical releases announced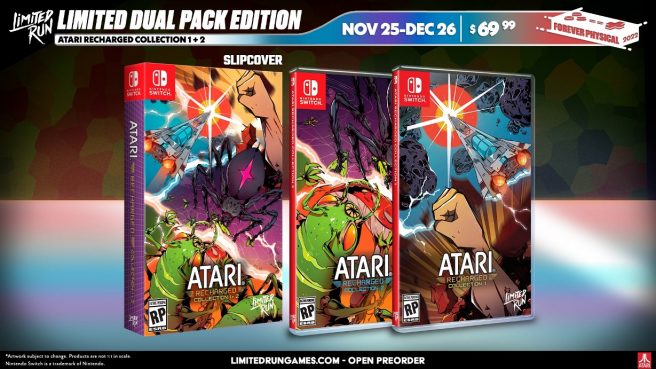 Limited Run Games has announced Atari Recharged Collection 1 and 2, a pair of new physical releases for Switch.
With the first collection, you'll be getting Asteroids and Breakout Recharged. Collection 2 contains Black Widow and Centipede Recharged. Fans can also opt for the dual pack containing volumes 1 and 2 in a deluxe slipcover.
All of these titles were previously released on the Switch eShop. You can read more about them below.
ASTEROIDS: RECHARGED

Asteroids: Recharged creates a familiar, but revitalized and modern challenge to both old school and new high score chasers. And 30 unique and creative challenge levels take the space shooting game play into new territory, complete with local and global leaderboards.

BREAKOUT: RECHARGED

The original brick-breaking game is back with some of the toughest challenges yet! Breakout: Recharged steps up the excitement with super challenging gameplay, all new power-ups, modern graphics and another original soundtrack from award-winning video game composer Megan McDuffee.

BLACK WIDOW: RECHARGED

Aim for a high score in the old school arcade mode and earn bragging rights with your name at the top of the leaderboard. Or test your skills and rank on the boards in one of 30 intensely creative challenges, which twist the gameplay in new and exciting ways.

CENTIPEDE: RECHARGED

A dozen new power-ups can give you an edge by introducing abilities like screen-clearing explosions, rail guns, and even slowing down time. Every mode and level is playable in local co-op mode with a friend.
Pre-orders for the Atari Recharged Collection 1 and 2 Switch physical releases begin on November 25, 2022. Limited Run Games will have everything here.
Leave a Reply