Beach Buggy Racing 2: Island Adventure gains Hot Wheels DLC on Switch next week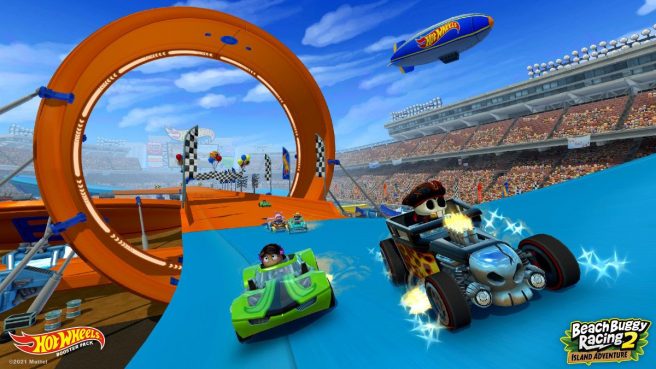 Owners of the kart racer Beach Buggy Racing 2: Island Adventure will soon be able to experience new content. It's been announced that in partnership with Mattel, Switch players can pick up the Hot Wheels Booster Pack next week.
The DLC contains seven legendary Hot Wheels cars and four new racetracks, including twisting orange track pieces. There are also new missions to unlock vehicles, discover custom paints and decals, win trophies, and collect Hot Wheels medallions in challenging stunt missions.
Here's a proper rundown of the DLC:
Seven legendary Hot Wheels cars: Rip Rod, Surf 'N Turf, Bone Shaker, Twin Mill III, Donut Drifter, Hotweiler and Loco Punk.

Earn trophies in the new Hot Wheels Championship.

Go for Gold on four thrilling Hot Wheels-themed tracks: Volcano Blast, Hot Wheels Harbor, Looptastic Stadium, and Frostfire Vale.

Five new Hot Wheels Cup events added to the Adventure map.

A new Hot Wheels Stunt Challenge added to every track in the game. Discover them all in 1000HP Race mode.

Six new Achievements to unlock.
The Hot Wheels Booster Pack DLC for Beach Buggy Racing 2: Island Adventure is due out for Switch on May 12 for $9.99.
Source: Vector Unit PR
Leave a Reply