Billy Mitchell responds to Donkey Kong high score controversy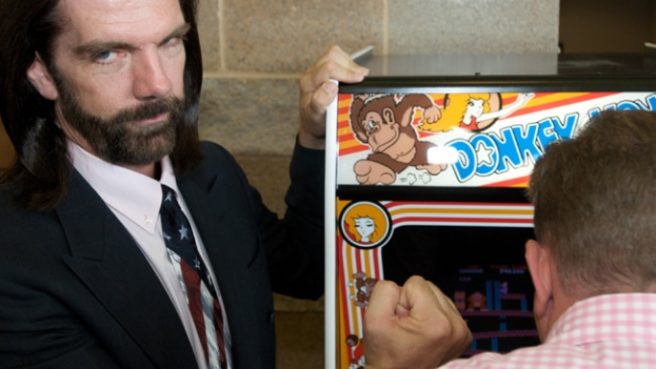 Billy Mitchell, a prominent member of the Donkey Kong arcade scene, was recently accused of obtaining high scores on the emulator MAME. This is significant since it was expected that he had playing on original arcade hardware.
During an episode of internet talk show "East Side Dave", Mitchell finally commented on the situation. First, he started out with the following:
"I've never even played MAME. I don't have MAME loaded in my home. The film footage that he has, that Jeremy (Donkey Kong Forum moderator, who analyzed the footage) has, shows MAME play. Now, I contend that if he gets the original tape, or he gets the original room shot, he will see that what I say is true. I'm not disputing what he says. What I'm disputing is the fact that I want him to have the original tape. And the fact of the matter is that that original footage was given to Twin Galaxies, Twin Galaxies has it or should have it, and if it's anywhere other than Twin Galaxies, that's a real problem."
Mitchell also claimed that his highest Donkey Kong score was witnessed by two people. Twin Galaxies referee Todd Rogers was supposedly there, who also is involved with a high-score controversy of his own. Twin Galaxies owner Pete Bouvier was also apparently present.
"When I absolutely had the good fortune to get the score on Donkey Kong and I turned around, one of the people shaking my hand, one of the people patting me on the back was Pete Bouvier, owner of Twin Galaxies."
Former Twin Galaxies employees told Kotaku that they have heard of the existence of a video tape recording of Mitchell's 2010 scores. However, it has not been found at this time. Mitchell believes that this tape will exonerate him if it is located. Meanwhile, for the moment, Twin Galaxies has not made a final decision on the dispute.
Leave a Reply