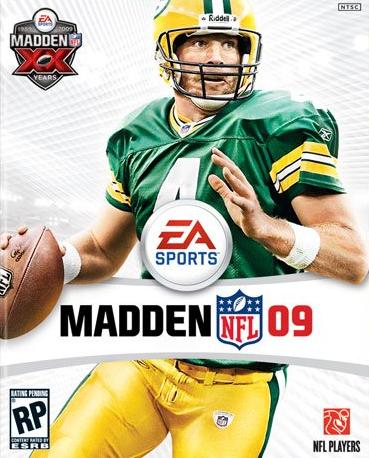 April 25, 2008 – Electronic Arts Inc., (NASDAQ: ERTS) announced today that former Green Bay Packers quarterback Brett Favre will be featured as the cover athlete of Madden NFL 09, coming to stores across North America on August 12 from EA Sports. Madden NFL 09 marks the 20th anniversary of one of the best-selling and most critically-acclaimed videogame franchises of all time, and the game will feature adaptable gameplay tailored to every type of gamer, online enhancements and a broadcast style presentation delivering an authentic NFL experience.

"Madden NFL Football and Brett Favre are sports icons who have set the standard and revolutionalized their positions within their respective genres," said Madden NFL Executive Producer Dale Jackson. "Brett Favre is a perfect fit for the Madden NFL 09 cover, as he epitomizes everything the franchise has stood for the past 20 years – longevity, excellence, and a love of football."

For passionate Madden NFL fans, this year's iteration will take authenticity and depth of gameplay to an entirely new level with more than 85 new features and enhancements, including the all-new Virtual Trainer tutorial mode. Utilizing a holographic environment, this mode teaches gamers simple concepts about playing football and how to use the controls in quick, fun and stylized drills. In Madden NFL 09, the game engine is continually assessing the player's performance and will adapt a custom experience to every type of gamer, from newcomer to the veteran Madden NFL player.

Madden NFL 09 will also feature a network-inspired broadcast presentation. Players will benefit from the authentic football knowledge of an in-booth play-by-play and color commentary team featuring Cris Collinsworth and Tom Hammond. In addition, numerous graphical enhancements have been made, including realistic weather and grass, sleeker player models and exterior stadium views.

Madden NFL 09 gives gamers the ability to create online leagues. Avid Madden NFL fans can now take their rivalries online and compete in leagues with up to 32 teams. Online league play will feature in-depth stat tracking, player trades and a flexible scheduling option.

Favre's legacy is cemented as one of the most beloved players of his generation and one of the most admired NFL players to ever grace the cover of Madden NFL. The future Hall of Famer is the league's only three-time Most Valuable Player and he holds the NFL record for most consecutive starts for quarterbacks. He completed his 17-year career as the NFL's all-time leader in touchdowns, completions, attempts, yards, and wins.

Last year, Madden NFL 08 was named the 2007 Game Critics "Best Sports Game" award at the E3 Media and Business Summit, "Best Team Sports Game" at the Spike TV Video Games Awards, "Best Sports Game of the Year" by GameTrailers. The game also earned GameSpot's "Best Sports Game" Reader's Choice Award and was named one of MSNBC's "Best Sports Games" of 2007. Over the past 20 years, the Madden NFL franchise has sold more than 70 million* copies and, since 2002, Madden NFL football has been the top selling sports game** each year in North America.

Madden NFL 09 is developed in Orlando, Florida by the award-winning EA Tiburon studio, which also produces NCAA Football, Tiger Woods PGA TOUR and NASCAR racing.

Madden NFL 09 will be available for the Xbox and Xbox 360 video game systems from Microsoft, PlayStation 2 and PlayStation 3 computer entertainment systems, Wii, Nintendo DS, PSP (PlayStation Portable) handheld entertainment system and is rated RP by the ESRB.

EA Sports is the leading interactive sports software brand in the world, with top-selling titles and franchises including Madden NFL Football, FIFA Soccer, NHL hockey, NBA Live basketball, NCAA Football, Tiger Woods PGA Tour and NASCAR racing.

For more information about Madden NFL 09, check out www.madden09.com.

* Based on internal sales data

** According to the NPD Group

About Electronic Arts

Electronic Arts Inc. (EA), headquartered in Redwood City, California, is the world's leading interactive entertainment software company. Founded in 1982, the company develops, publishes, and distributes interactive software worldwide for video game systems, personal computers, cellular handsets and the Internet. Electronic Arts markets its products under four brand names: EA SPORTS, EA, EA SPORTS BIG and POGO. In fiscal 2007, EA posted revenue of $3.09 billion and had 24 titles that sold more than one million copies. EA's homepage and online game site is www.ea.com.
Leave a Reply