Bulletstorm: Duke of Switch Edition announced for Switch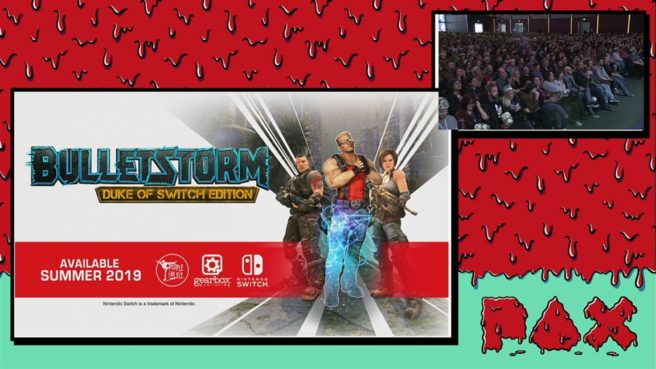 The first-person shooter Bulletstorm is coming to Switch, Gearbox has announced. The news just dropped during the company's panel at PAX East 2019.
People Can Fly originally developed Bulletstorm in 2011, where it was met with acclaim. Here's some additional information about the title, along with a trailer:
Step into the boots of Grayson Hunt after a crash landing on an abandoned resort planet forces him to make a hard choice: survival or revenge. An exiled member of the elite assassin group Dead Echo, Grayson's blind desire for vengeance finds his crew stranded on Stygia where he can finally confront the commander behind his betrayal—or get his team off the planet alive.

Battle your way through throngs of Stygia's mutated inhabitants, performing masterful kills throughout the single-player campaign—or one of 30 competitive score-challenge or 12 co-operative multiplayer maps—using Bulletstorm: Full Clip Edition's unique "Skillshot" system that rewards you for executing the most creative and deadly kills imaginable.
Bulletstorm: Duke of Switch Edition launches this summer. DLC content will be included in the package.
Leave a Reply