Calico update out now (version 1.04), patch notes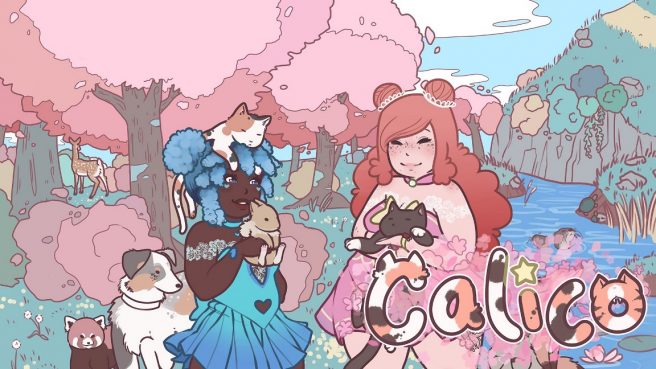 Calico recently received another update. With version 1.04, the team has implemented feature updates, a new round of bug fixes, improved performance, and more.
Below are the full patch notes:
Feature Updates

⦁ Added a few more masculine faces in the character creator.
⦁ Split animal journal list into areas making it easier to find them all.
⦁ Improved the color palette.
⦁ Added Page-up and Page-down controls to animal journal to make selection faster.

Bug Fixes

⦁ Fixed hat position on raccoons and ferrets.
⦁ Fixed color selection cursor precision.
⦁ Fixed skybox clouds display issue.
⦁ Fixed clock flickering issue.
⦁ Fixed navigating menus with d-pad being unintuitive/broken.
⦁ Fixed player being able to pick up the animal they are riding in certain circumstances.
⦁ Fixed base eye color and eye design color being swapped.
⦁ Fixed another cause of NPCs getting stuck at the cafe gate.
⦁ Possible fix for NPCs floating around stuck in sitting animation.
⦁ Fixed Gabby not accepting Snow Dog.
⦁ Fixed Murphy's model to match real life Murphy.
⦁ Fixed animal command menu not highlighting when used repeatedly.
⦁ Fixed credits-cat spawning off-center.
⦁ Fixed Daisy's house having no collisions.
⦁ One possible fix to a rare clothes-disappearing bug implemented.
⦁ Fixed stores resetting their stock if you buy all items.

Miscellaneous

⦁ Major performance update.
⦁ Adjusted Forest Spirit Cat and Bootes to look more distinct from one another.
⦁ Changed broom sound and removed bunny sounds.
⦁ Reduced stutter and lag from spinning camera and when loading into new areas.
⦁ Changed face customization list to be more intuitive.
Calico is out now on the Switch eShop.
Leave a Reply