Cannibal Cuisine getting Curse of the Scarab King expansion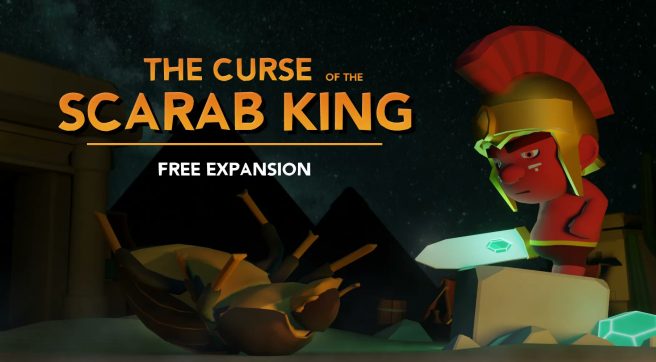 Rocket Vulture has announced a major Curse of the Scarab King expansion for Cannibal Cuisine, its cartoon cooking game. It'll add new levels, new cosmetic items, and more.
Here's a rundown as to what's included:
5 levels and one Challenge level

The Curse of the Scarab King expansion adds 5 new levels and a new challenge level where you must face the Scarab King himself.

Mummies!

Dig into the sand of an ancient desert and chop up some mummies that wander around.

Ancient Egyptian inspired visuals
New cosmetic items

And because you want to look like the coolest cannibal ever, the new expansion also features new cosmetics, adding 8 new items – perhaps a turban or fez appeals to your sense of style? Or a golden-hilted scimitar will be your weapon of choice? You can combine these with the main game items, so you can pair a classic chef's hat with a new axe, or combo a Roman-style plumed helmet with a frying pan.

Collect gems from scarabs to disable traps

So apart from chopping up mummies, you now have to shut down the deadly green beams by hunting a scarab, stealing their gem, and plugging it into the gem socket.

Don't dump your friends in the drink with switchable bridges

New game mechanics are added too, including switch-controlled bridges, so it's best to really try and be a team with your fellow cannibal friends. You wouldn't want them ending up dead… right?
The Curse of the Scarab King expansion for Cannibal Cuisine will be going live on January 25.
Source: Rocket Vulture PR
Leave a Reply