Capcom confirms disc-based release for DuckTales Remastered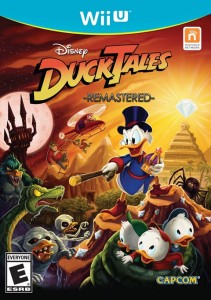 DuckTales Remastered will be seeing a retail release. Originally launched as a download last month, the disc version will hit store shelves on November 12. Pricing is set at $19.99.
You can find the full announcement below. DuckTales Remastered's boxart is posted above.
It's a Duck Blur! Capcom is excited to share the quack-tastic news that a disc-based version of DuckTales: Remastered will be hitting retail store shelves across North America on November 12. Currently available as a digital download through Xbox Live, PlayStation Network, Nintendo eShop and PC, DuckTales: Remastered will offer an all-new $19.99 disc-based alternative to players on Xbox 360, PlayStation 3, and Wii U.

Originally released in 1989 on the Nintendo Entertainment System , DuckTales was widely acknowledged as one of the generation's seminal platform titles. DuckTales: Remastered once again follows the adventures of Scrooge McDuck and his nephews – Huey, Dewey and Louie, as they explore different themed worlds on their search for five legendary treasures.

The development team at WayForward have taken the levels and layout from the original release and expanded on them to significantly enhance the gameplay experience; but where this update truly impresses is its graphics and sound. All of the visuals from the 8-bit game have been beautifully re-created as hand-drawn and animated sprites, across a backdrop of luscious, re-envisioned level backgrounds. Furthermore, original Disney Character Voices talent, including some from the cartoon TV series, bring in-game characters to life with charm and wit, while the classic melodies of the original soundtrack are given a modern twist.
Leave a Reply