Cat Quest confirmed for November 10 on Switch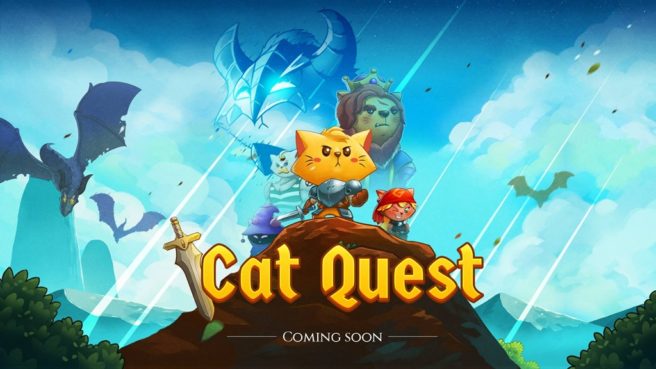 The North American Switch eShop listed Cat Quest for November 10. Thankfully, that release date was spot on. PQube and The Gentlebros have officially confirmed the November 10 release date.
We have a ton of additional information about Cat Quest and a trailer below.
Focusing on real-time hack 'n slash combat, sweet loot and cat puns (lots and lots of cat puns), Cat Quest is an isometric open world 2D action-RPG that will take players on a colourful and playful adventure.

Set in the world of Felingard, Cat Quest sends you on an epic journey to defeat Drakoth, an evil cat-lord who destroyed your boat and catnapped your sister. He is as pawerful as he is meowsterious however, and in order to rescue your pawr sister, you must realize your destiny as the last of the Dagonblood, a long-lost race of dragonslaying cats.

With the help of a guardian spirit named Spirry, take on challenging monsters and build your strength through levelling up your spells and acquiring mew loot!

Plenty of cat fights

Combat is key in Cat Quest and the good people of The Gentlebros have worked hard on making a real-time combat system that just 'feels' right as a top-down action game. Your catventurer is an agile fellow, who dives out of harm's way at the touch of a button regardless of how heavy his armour may be. Using a 'danger zone' design, Cat Quest alerts you to employ your cat-like reflexes to avoid damage when the red danger zone of enemy attacks fills up.

As enemy skills and numbers become more challenging, Cat Quest combat becomes a game of cat and mouse, constantly keeping you on your toes and jostling for position in order to inflict damage while avoiding harm.

Level up your spells

Improving your spells is key to survival in the dangerous wilds of Felingard. Using and combining spells along with melee abilities will turn our catventurer into a dervish of violence. Set enemies on fire to apply a damage over time with Flamepurr, draw them to their death by leading them into a Cattrap and blast them to smithereens with an explosive blast of Lightnyan!

Customize your equipment

During your adventures, you'll pick up an incredible amount of sweet, sweet loot. You could simply colour coordinate and wear the coolest outfits, but if you want to survive the dangerous twists and turns of your catventure, deciding on a specialty and wearing the gear that improves your desired stats would be heavily recommended.

Do you want to wear the best +magic gear to improve your spellcasting and increase your mana pool, or do you want to don the heaviest armour you can find and become a walking tank? It's completely up to you how you want to customize your play experience.

The call for a hero rings throughout Felingard, the world isn't going to save itself! Rise up, sharpen your claws and get ready for Cat Quest on Nintendo Switch!
Source: PQube PR
Leave a Reply